27th February 2018 Content supplied by: Beckman Coulter International S.A.
European Launch of Automated Plate Streaking System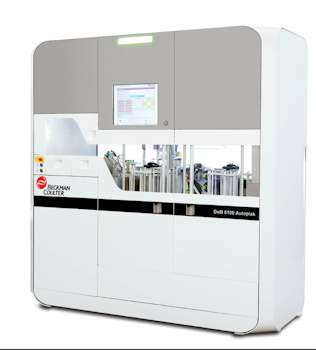 Since June 16, 2017, Beckman Coulter has been the sole distributor in most European countries of the DxM 6100 Autoplak automated plate streaking system developed by NTE-SENER.
The DxM 6100 Autoplak Advanced System automates and integrates the core aspects of microbiology specimen processing, including plating and streaking, Gram stain slide preparation and enrichment broth inoculation. This streamlines routine tasks and helps laboratories manage increasing testing volumes by enabling them to reallocate technical resources as needed.
The DxM 6100 Autoplak Advanced System is compact for easy placement in tight workspaces. The open platform provides flexibility by allowing customers to use liquid transport tubes and consumables from various manufacturers, and enabling them to customize protocols to accommodate current processes. Quality is enhanced through traceability, standardization and safe processes that reduce cross-contamination risk. The highly reliable DxM 6100 Autoplak Advanced System enables laboratories to maximize uptime for fewer workflow interruptions, and is supported by Beckman Coulter's expert service and support professionals.
"The innovations provided by the DxM 6100 Autoplak Advanced System include process standardization, leading to an increase in quality and labour efficiency. Clinicians receive highly reproducible results, delivered faster and systematized online for easy access to information," said Íñigo Gurrea, healthcare manager, NTE-SENER. "On top of this, the system frees up time professionals may otherwise spend manually inoculating and streaking samples - time they could dedicate to other tasks with greater added value - helping to facilitate lab management."
The strategic partnership in Europe with NTE-SENER is part of Beckman Coulter's ongoing commitment to help improve clinical microbiology operations through automation. It is an outgrowth of the Beckman Coulter Diagnostics Difference, the company's mission to transform clinical laboratories into high-performing organizations; provide clinical information and analytics that put people first; and, deliver high-quality, accurate results through comprehensive, scalable and reliable solutions.
NOTE: Not available in all countries
Please note : Any products described on this page are for Research Use Only and not intended for clinical diagnostic procedures unless otherwise stated.
Tags:
Date Published: 27th February 2018
Source article link: View