16th June 2015 Content supplied by: Beckman Coulter International S.A.
DxN VERIS Molecular Diagnostics System Revolutionises Lab Workflow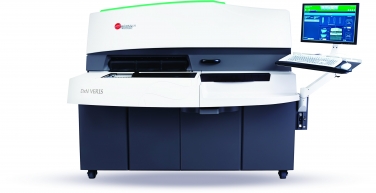 Beckman Coulter Diagnostics is showcasing its revolutionary DxN VERIS Molecular Diagnostics System* at Innovations to Improve Workflow for the Diagnostics Laboratory, booth D23 and D24 at the IFCC-EFLM EuroMedLab, 22-24 June 2015, Palais des Congrès, Paris, France.
"The DxN VERIS Molecular Diagnostics System is designed to revolutionise the clinical laboratory with LEAN workflow and improved sample turn-around time," said Arnd Kaldowski, president, Beckman Coulter Diagnostics. "The system's true single sample random access empowers laboratories to perform viral load tests whenever they want, at a time that suits them—ultimately helping physicians make faster clinical decisions and positively impacting the patient pathway.
"The robust DxN VERIS can run up to 20 assays at any time," Kaldowski continues. "This enables laboratories to optimise workflows and staffing productivity, freeing up time, for example, to bring additional and new testing in-house, for laboratory service expansion and to increase reference site revenue potential."
With LEAN principles at its core, DxN VERIS combines sample prep, nucleic acid extraction, reaction setup, real-time PCR amplification, detection and results interpretation in one instrument, streamlining workflow for improved productivity. "With DxN VERIS we have significantly reduced the need for manual intervention, enabling labs to go from a sample to auto-verified result in just 70 minutes," said Richard Creager, senior vice president, Molecular Diagnostics Business Unit and chief scientific officer at Beckman Coulter Diagnostics.
Fully CE-marked, the system is available with assays for Human Immunodeficiency Virus (HIV-1), Hepatitis C Virus (HCV), Hepatitis B Virus (HBV) and Human Cytomegalovirus (CMV). Further menu expansion will follow with many other assays currently in development.
DxN VERIS assays are supplied in a unique, single cartridge system so, unlike traditional batch-plate systems, there are no empty wells, reducing wastage and consumable costs. With the DxN VERIS Molecular Diagnostics System, all necessary consumables and reagents are on-board, so there is no lengthy set-up and tests can be up and running in less than 10 minutes.
In addition to featuring the DxN VERIS Molecular Diagnostics System at the exhibition booth, Beckman Coulter will be presenting:
Workflow Transformed: DxN VERIS a New Fully Automated System for Molecular Diagnostics Monday, 22 June | Room 242 EduW n. 10
Chair: Pr. Jacques lzopet Director of Virology Department, University Hospital Purpan, Toulouse, France Head of Core Lab in Hospital Purpan, Toulouse Director INSERM Unit U1043 National Reference Center for HAV and HEV
Workflow Study Approach Speaker: Andrew Williams Managing Partner Nexus Global Solutions, Inc. (NEXUS), USA
An EU Laboratory Perspective: Spain Speaker: Pr. Jordi Vila Director of Microbiology Department Hospital Clinic de Barcelona, Spain
An EU Laboratory Perspective: UK Speaker: Dr. Duncan Whittaker Laboratory Manager Department of Virology Sheffield, UK
For more information regarding the DxN VERIS Molecular Diagnostics System, visit www.beckmancoulter.com/moleculardiagnostics.
*Not for sale or distribution in the U.S.; not available in all markets.
Please note : Any products described on this page are for Research Use Only and not intended for clinical diagnostic procedures unless otherwise stated.
Tags:
Date Published: 16th June 2015
Source article link: View