4th November 2014 Content supplied by: Liofilchem s.r.l.
Disc Tests for Confirmation of Carbapenemase-producing Enterobacteriaceae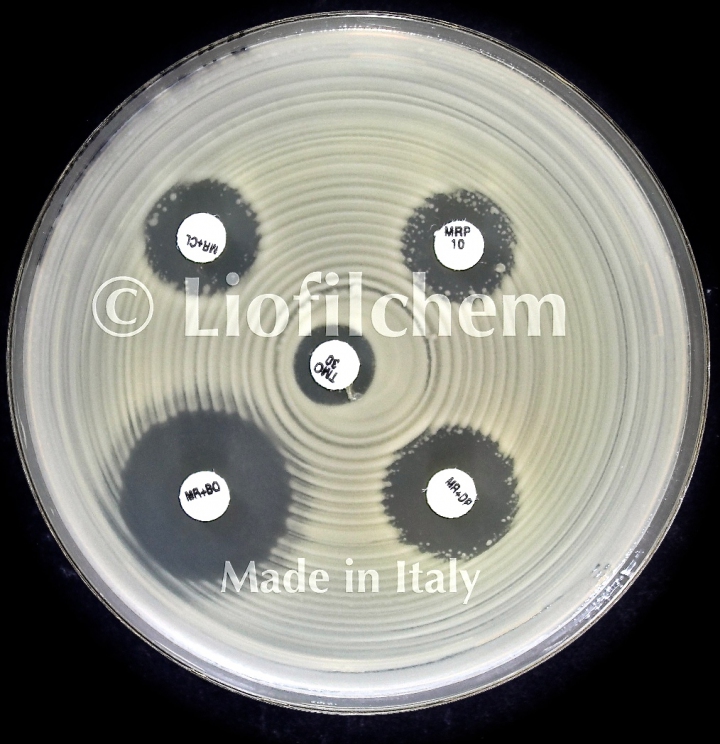 Liofilchem is now offering a KPC&MBL&OXA-48 disc kit (acc. to EUCAST) for confirming the presence of carbapenemases. Enterobacteriaceae suspected of being producers of carbapenemases may be confirmed by using meropenem and evaluating the synergistic effects when combined with the following inhibitors:
Phenylboronic acid inhibits class A carbapenemase;
Dipicolinic acid inhibits class B carbapenemase;
Cloxacillin, which inhibits AmpC β-lactamases, permits to differentiate between AmpC hyperproduction plus porin loss 
and carbapenemase-production.
There is no currently available inhibitor for class D carbapenemases. However, when there is no synergy of meropenem with any of the above mentioned inhibitors, 30 μg Temocillin disc (TMO) can be used in order to differentiate between ESBL plus porin loss and OXA-48 like enzymes. For each combined disc test (CDT), discs containing meropenem alone and in combination with a carbapenemases inhibitor are applied. The inhibition zone around the meropenem disc combined with inhibitor is compared with the zone around the 10 μg meropenem disc (MRP).
The Liofilchem KPC&MBL&OXA-48 disc kit is presented as 5 x 50 discs cartridges, each packaged in a "blister" with a dryer, consisting of the following discs:

 At the end of the incubation period, inhibition halos are measured and interpreted as indicated in the table below.

For more information visit www.liofilchem.net/login/pd/pi/99007_PI.pdf
Please note : Any products described on this page are for Research Use Only and not intended for clinical diagnostic procedures unless otherwise stated.
Tags:
Date Published: 4th November 2014
Source article link: View
Related news