21st July 2018 Content supplied by: Cherwell Laboratories Ltd
Cherwell Publishes Guide on Environmental Monitoring Processes and Validation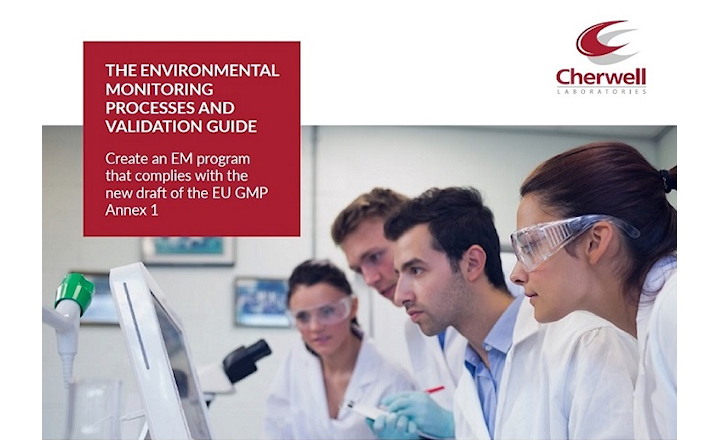 Supporting EM programs in preparation for proposed EU GMP Annex 1 changes
Cherwell Laboratories, specialist supplier of products for environmental monitoring and process validation, has drawn on its in-depth pharmaceutical and related industry knowledge to publish an eBook titled, "The Environmental Monitoring Processes and Validation Guide."
Available to download from Cherwell's website, the new guide has been created following the release of the revised draft of EU GMP Annex 1 – Manufacture of Sterile Medicinal Products.  It is intended to assist sterile product manufacturers with reviewing and improving their environmental monitoring (EM) programs in preparation for the proposed changes to Annex 1.
The comprehensive guide highlights the most business-efficient EM measures organisations can take to comply with the latest iteration of the EU GMP Annex 1, and practical steps they can take to create the ideal EM process. It also addresses and summarises the key changes proposed to Annex 1 and covers:
Why the EU GMP Annex 1 draft has been proposed;
how it helps all industries move closer towards a global standard;
how to prepare for compliance; examples of best practice for EM programs and
the right tools needed for an effective and compliant program.
Andrew Ramage, Cherwell Laboratories' Microbiology Product Specialist comments: "The draft copy of the new version of EU GMP Annex 1 has considerably more detail on the expectations of designing and implementing an environmental monitoring regime. It remains to be seen how much will change following the public consultation. Regardless of what changes are made, our in-depth guide will help the end user to interpret the new guidelines and to create and implement a robust environmental monitoring regime for their cleanroom, whatever the size of their facility."
With over thirty years' insight and experience with environmental monitoring applications, Cherwell has intricate insight and expertise that ensures they continually deliver high calibre products and services to their clients.  Their ability to offer bespoke solutions to match customer needs not only applies to their range of Redipor® prepared media, but also the SAS range of air samplers and EM accessories which they specialise in.
Download The Environmental Monitoring Processes and Validation Guide
Tags:
Date Published: 21st July 2018