5th April 2016 Content supplied by: Beckman Coulter International S.A.
Case Study Shows How to Improve Viral Load Workflow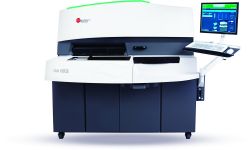 A case study describing the experiences of Niguarda Hospital, Milan, in assessing the new DxN VERIS Molecular Diagnostics System is now available from Beckman Coulter. The case study describes the workflow improvements and reduced turnaround times that the hospital's Molecular Biology Laboratory was able to achieve for viral load measurements using the DxN VERIS system.
One of Italy's leading General Hospitals and an important transplant center, Niguarda Hospital performs nearly 25,000 viral load measurements every year, for human immunodeficiency virus type 1 (HIV-1), hepatitis C virus (HCV), hepatitis B virus (HBV) and cytomegalovirus (CMV). As workloads continue to increase, the Molecular Biology Laboratory must meet demands for high quality results and reduced turnaround times without any increase in resources.
Whereas the laboratory's existing viral load method involves multiple platforms and many manual steps, DxN VERIS consolidates DNA extraction, nucleic acid amplification, quantification and detection for a number of molecular targets (including HIV-1, HCV, HBV and CMV) onto a single automated instrument, requiring far less manual intervention. Exhibiting comparable performance, the DxN VERIS allowed much faster turnaround of results, with all results being reported within 8 hours of receipt, compared to several days with the existing method.
"The DxN VERIS is easy to use with complete automation and an intuitive computer interface," comments Diana Fanti, Molecular Biology Laboratory Manager. "By transforming laboratory organization and workflows, and reducing manual intervention, viral loads could be completed in a single day using the DxN VERIS. Requiring fewer people to be dedicated to this purpose, this makes it possible to accomplish more work with the same number of staff."
To find out how the DxN VERIS Molecular Diagnostic System can help to improve workflows and productivity in your laboratory, and to obtain a copy of the Niguarda Hospital case study, please contact: Tiffany Page, Senior Pan European Marketing Manager Molecular Diagnostics, email: info@beckmanmolecular.com or visit www.beckmancoulter.com/moleculardiagnostics
Please note : Any products described on this page are for Research Use Only and not intended for clinical diagnostic procedures unless otherwise stated.
Tags:
Date Published: 5th April 2016
Source article link: View
Related news