8th May 2023 Content supplied by: Bruker Corporation
Bruker's Latest User-friendly, Best-in-class Diagnostic Solutions for Routine Clinical Microbiology
At the recent ECCMID 2023 congress, Bruker Corporation announced its latest innovations for user-friendly, best-in-class diagnostic solutions for routine clinical microbiology and infection diagnostics laboratories.
1. Fast next-generation MALDI Biotyper® IVD Software
Microbial identification faster than ever: The MBT Compass HT IVD software provides a high sample throughput for microbial identification with time-to-result of ~5 minutes for 96 sample spots.
Because of a fast sample target exchange, the MBT system can now analyse up to 600 samples per
hour, while covering over 4,600 species in the reference library.
Microbial identification with optimal performance: The new IDealTune™, part of the MBT Compass HT IVD software, provides fully automated tuning of MALDI-TOF parameters within a sample run, delivering consistent data quality without user intervention. This seamless and effortless approach further increases performance, reproducibility, and up-time of the system.
2. Optimizing sample preparation for mycobacteria
As mycobacteria are challenging species in microbiology, an optimized sample preparation protocol
is essential for robust results. The new MBT Mycobacteria IVD Kit offers a user-friendly, dedicated sample preparation method for mycobacteria cultivated in liquid as well as on solid media. The
inactivation method for safe sample handling does not require boiling but convenient incubation of
the mycobacteria with an inactivation reagent at room temperature.
Dr. Arthur Pranada, Head of the Microbiology Division at MVZ Dr. Eberhard & Partner in Dortmund, stated: "During the last years the number of clinical samples with nontuberculous mycobacteria has increased, and reliable identification is important for an assessment of the clinical significance. The MBT Mycobacteria IVD Kit further simplifies the workflow for identification of nontuberculous mycobacteria by MALDI-TOF MS and reduces hands-on time. During the evaluation in our laboratory more than 96% of mycobacteria from solid and liquid media could be identified at a high-confidence level."
Identifying challenging filamentous fungi
Identifying molds and multicellular fungi remains one of the most complex aspects of microbiology,
because of varying culture conditions and colony morphology. The new MBT HT Filamentous Fungi IVD Module comes with an easy, yet powerful Mycelium Transfer (MyT) sample preparation procedure which together with a comprehensive reference library offers high identification success rates.
3. New LiquidArray ® Gastrointestinal PCR Assay for Broad Syndromic Testing
Rapid culture-free pathogen identification: Bruker's LiquidArray® technology offers rapid, multiplexed PCR pathogen detection for ease of implementation. Launched on the high-precision FluoroCycler ® XT thermocycler, LiquidArray® combines innovative probe and thermocycling technologies with results-at-a-glance visualization for the simultaneous analysis of multiple targets from a single sample.
The integrated FluoroSoftware ® XT-IVD generates easy-to-interpret results, accelerating clinical decisions. The new LiquidArray ® Gastrointestinal is a syndromic panel that enables the simultaneous detection of up to 26 pathogens causing gastroenteritis. LiquidArray ® Gastrointestinal is validated on the GenoXtract ® fleXT which streamlines extraction and PCR. This provides high-throughput clinical laboratories with a fully integrated workflow from sample to result.

Dr. Wolfgang Pusch, President of the Bruker Microbiology & Infection Diagnostics division,
commented: "With the introduction of our new IVD workflows, kits, software and reference libraries for
mycobacteria and fungi, we further expand the applications of our established MALDI Biotyper ® platform. This creates additional value for all current and future customers. The new LiquidArray ® Gastrointestinal is a next-generation syndromic panel with amazing pathogen coverage. It is ideal for laboratories which are interested in a broad screening approach to detect most pathogens in one run."
Watch video on 'Next generation multiplexing in the clinical laboratory: powered by LiquidArray®'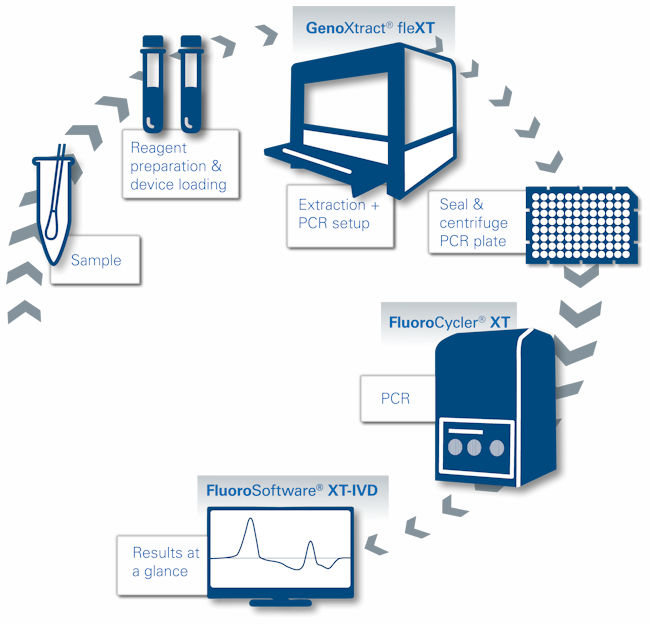 Streamlined Workflow from Patient Sample to Result
Please note : Any products described on this page are for Research Use Only and not intended for clinical diagnostic procedures unless otherwise stated.
Tags:
Date Published: 8th May 2023
Source article link: View