11th January 2017 Content supplied by: Solo Containment Ltd.
Bench Top Isolator Ideal for Small Scale Containment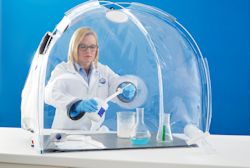 Since its launch late 2016 Solo's new soloLAB bench top isolator is gaining rapid approval in the pharma and laboratory sectors with customers in the USA, Europe and across the UK.
Manufactured from a robust PVC film and incorporating a large gas tight access zipper door the soloLAB is ideal for small scale instrument containment and inert gas operations. A gas supply tube sleeve and vent filter is provided that allow rapid inert gas saturation and sealing. Solo supply a handy gas level detector as an option to the isolation unit.
soloLAB is manufactured with a spring loaded frame system and so it is a true self assembly isolator ready to be in operation within less than 1 minute from removal from its carry bag.
For a rapid deployment bench top isolator system with high performance inert gas retention the soloLAB is you perfect partner.
Visit solocontainment.com
Tags:
Date Published: 11th January 2017
Source article link: View