Upcoming Microbiology Events : water
: 21 Apr 2020 - 22 Apr 2020
: Dublin, Ireland
Sector: Pharmaceutical, Water Type: Training
Summary : Honeyman Training courses highlight the key and essential points of designing, building, owning and operating pharmaceutical water systems. Basic design of water purification, storage and distribution system elements will be outlined, with illustrated examples. more...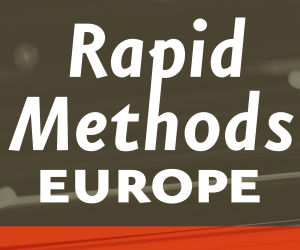 : 2 Nov 2020 - 4 Nov 2020
: Amsterdam, Netherlands
Sector: Clinical, Food & Beverage, Veterinary, Water Type: Conference
Summary : RME2020 is the 13th conference in the Rapid Methods Europe series dedicated to innovations and breakthroughs in rapid analysis and diagnostics across the agri-food, water, animal health, and healthcare sectors. more...