Be in control with Steriswab
| | |
| --- | --- |
| Be in control... | ... with Steriswab |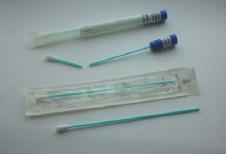 Steriswab
Pre-moistened swabs for effective environmental sampling
Designed for the pharmaceutical microbiologist.

Improved sampling from all surfaces.

Pre-moistened. No separate vials or bottles of diluent.

Ready to use.

Optimum recoveries of fastidious microorganisms.

Saves time and expense.

Pre-packed in user-friendly packs
Individual or multiple packs to suit all operations

Labelled tubes or peel pouches to comply with existing procedures.

Pre-sterilised
Sterilised by irradiation – guaranteed

NOW WITH

BLUE SHAFT

AND 45MM BREAKPOINT!


Blue shaft

for visibility!
45mm breakpoint for ease of use in all methods

Medical Wire....because the result matters!

Steriswabs have been designed for the pharmaceutical microbiologist as a tool for effective monitoring of sterility and contamination in clinically clean or sterile work areas.

Steriswabs are pre-moistened with a sterile diluent for ease of use and the elimination of any possible cross-contamination. The swabs are supplied individually in a sterile labelled tube which can be used to return the sample to the laboratory. Alternatively they can be supplied packed individually, or in sets of 5 or 10 within a sterile peel-pouch which can then be used in accordance with existing procedures.

Steriswabs are pre-sterilised by irradiation, and triple-wrapped to guarantee that any viable organisms detected come from the site and not from the swab. Our own production procedures are designed to ensure minimum bioburden (i.e. practically zero non-viables).

Steriswabs are validated for the recovery of fastidious micro-organisms.

Order Details
Product Reference

Product Description

Unit size

MW720

Steriswab®, Individual pre-moistened blue,
breakpoint swab, Labelled tube, Sterilised by
irradiation.Triple wrapped.

250 per case

CONTACT DETAILS
Medical Wire Equipment
Medical Wire....because the result matters!

NOTE: This item is from our 'historic' database and may contain information which is not up to date.