Puritan Medical Products Launches New Series to Tell Customer Stories
Puritan Medical Products Co., LLC has launched a new series of news posts to show how its customers use Puritan products across a variety of disciplines, including forensics, diagnostics, DNA research, health and beauty, food safety, and medical treatment, among others.
As North America's largest manufacturer of
single-use medical products
, Puritan's goods travel all over the world on any given day.
'We are in the fortunate position of having very interesting customers doing extremely interesting and important work," said Puritan EVP of Sales Timothy Templet. "We'd like to share some of these stories by taking a look at exactly how our products are used for scientific research and analysis in many different settings around the world."
To that end, Puritan has launched the new series of news posts on its website to uncover some of the stories behind their products.
The first post follows
the story of Virginia R. Pearson
as she travels to Africa to investigate what's causing hemorrhagic death among young Asian elephants. Pearson, a researcher from the Department of Molecular Biology at Princeton University, has spent more than 40 years studying elephants.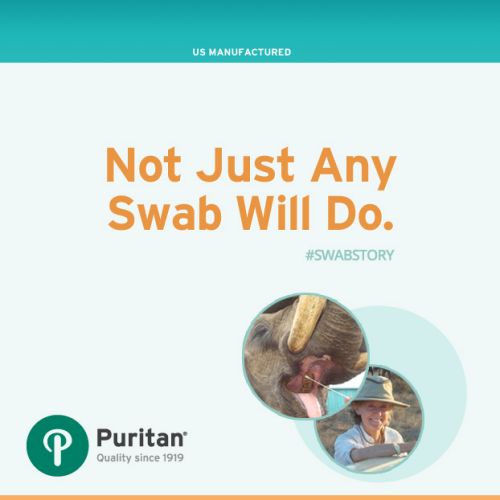 'In 2007, I met a baby Asian elephant, fuzzy tufts of hair springing forth from the top of her head, so full of joy and promise for her species,' Pearson wrote in a piece describing her work. 'I felt honored to have the privilege of spending all day with her. Two weeks later she was dead… nothing could be done to save her.'
Pearson decided from that moment to do whatever she could to help find answers to the disease that was killing young Asian elephants. In our first post in this series, we´ll look at Dr. Pearson´s work and how she´s helping to save the lives of Asian elephants. (And how a certain Puritan 16-inch swab is helping her.)
Other posts in the Puritan series will follow customers to Australia for a forensics study, Hollywood, California to see how Puritan´s products have been used in television, for global medical and health aid, and in New England to show how Puritan´s products are used for food safety best practices.
NOTE: This item is from our 'historic' database and may contain information which is not up to date.