Online Video Demonstrates State-of-the-Art Lab Vacuum System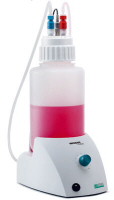 For laboratories tired of inflexible and noisy vacuum systems - INTEGRA Biosciences has produced a new video that demonstrates how its VACUSAFE comfort system makes the aspiration of liquids safe, easy and efficient.

Accessed from www.vacusafe.info/video.html the online streaming video (also available for download as .wmv or .mov file) leads you through the state-of-the-art safety features, user-friendly operation and applications flexibility that has made VACUSAFE comfort the vacuum system of choice for a growing number of laboratories worldwide.

The video shows how in-line hydrophobic filters, shatterproof waste bottle and fully autoclavable components protect you and your lab from contamination by hazardous liquids. Supplied as an out-of-the-box solution, the video shows how you simply unpack the VACUSAFE comfort and start working. The automatic on-off function of the vacuum pump is demonstrated to reduce workplace noise to minimal levels.

The video also demonstrates the flexibility of the system using a precisely adjustable vacuum and a wide choice of VACUBOY hand operator tips to safely and productively aspirate liquids from almost any container or microplate.



Visit
http://www.vacusafe.info/video.html
now.
NOTE: This item is from our 'historic' database and may contain information which is not up to date.