WELLJET Reagent Dispenser and Dispenser Stacker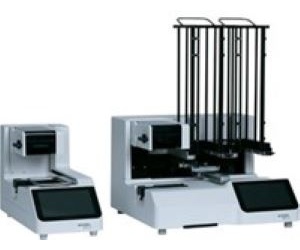 Principle: Non-contact (peristaltic pump based) liquid dispensing technology
Automation: Yes
Suitability: Helps to perform the daily and repetitive tasks of filling or adding reagents into microplates.
Capital equipment required: No
Description:
The WELLJET dispenser and dispenser stacker are designed to offer superior user experience and flexibility for applications that require low cost, fast and precise bulk reagent dispensing. Based on peristaltic pump technology and non-contact dispensing, a wide volume range can be covered, from 0.5 µl up to 10 ml.
Key Points:
Dispensing cassettes use molded silicone tubings at the interface with the pump-unit, eliminating the need for (re-)calibration
All standard ANSI/SLAS classified plate formats can be processed
Large touch-screen user interface (ø17.8 cm / 7")
Fast plate processing times
Robust and reliable lid handling function (WELLJET dispenser stacker)
The WELLJET dispenser stacker is the only fully integrated dispenser stacker system on the market