VIAFLO – Electronic Pipettes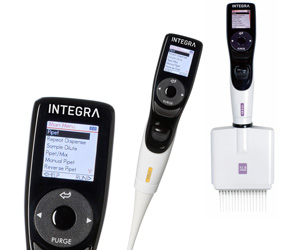 Manufacturer: INTEGRA Biosciences AG
Principle: Air displacement electronic pipetting system
Automation: Yes
Suitability: Serial dilutions, reagent additions, transfer of viscous liquids
Capital equipment required: Yes
Description:
VIAFLO electronic pipettes together with INTEGRA's GripTips form a perfect pipetting system, which guarantees a secure connection and perfect alignment. The coloured user interface offers a choice of predefined pipetting modes covering typical applications as well as custom multi-step programs. VIAFLO are available as single, 8-, 12- and 16-channel models with volume ranges of 0.5 – 1250 µl.
Key Points:
VIAFLO pipettes are up to 20% lighter, helping to reduce RSI injuries.
Robust and easy to repair design promotes trouble free pipetting.
Additional menu languages in German and French, Spanish, Chinese and Japanese.
Multichannel VIAFLO pipettes can be attached to the pipetting robots ASSIST and ASSIST PLUS to perform pipetting operations automatically.