ASSIST – Pipetting Assistant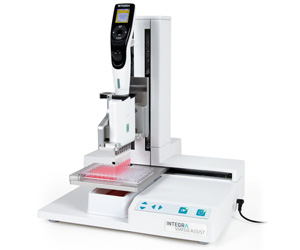 Manufacturer: INTEGRA Biosciences AG
Principle: Automated pipetting
Automation: Yes
Suitability: Serial dilutions, reagent additions, rapid liquid transfer
Capital equipment required: Yes
Description:
By attaching a VIAFLO electronic pipette to ASSIST, pipette protocols can be performed automatically, resulting in increased reproducibility and relieving lab personnel from repetitive motions that may cause repetitive stress injuries. The pipette communicates with ASSIST via Bluetooth. Plates from 6-wells to 384-wells can be used in portrait and landscape format.
Key Points:
Automates multichannel pipettes to reduce the strain of handheld pipetting.
Eliminates pipetting variability. The tip immersion depth and angle are always the same.
Wide range of applications using 8-, 12- and 16-channel VIAFLO pipettes of 0.5 – 1250 µl.
Very favourable price compared with other automated instruments.
Simply program a VIAFLO pipette, click it into the adapter and press the run button.