Thermo Scientific™ Finnpipette™ Novus electronic pipette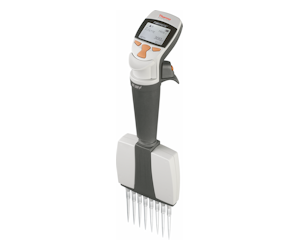 Principle: Trusted electronic pipetting system that supports faster pipetting, improved comfort and safe, accurate pipetting results
Automation: NO
Approvals: Thermo Scientific Finnpipette Novus electronic pipettes are supplied calibrated to ISO8655 standards and warranted to be free from defects in material and workmanship for 2 years
Suitability: For aspirating and dispensing of liquids between 1 – 10000µl
Capital equipment required: NO
Description:
Speed up repetitive dispensing into 96- and 384-microplates with Thermo Scientific™ Finnpipette™ Novus Single and Multichannel Pipettes. Available in a wide range of models for common laboratory tasks, this product has a lightweight handle and unique index-finger operation that enable longer work periods without fatigue. Simplicity, comfort and functionality — the Novus will be your new best friend in the lab.
Key Points:
Speeds up your pipetting
Simple to use
Ergonomic and comfortable
Please note : Any products described on this page are for Research Use Only and not intended for clinical diagnostic procedures unless otherwise stated.
Areas:
Clinical

Food & Beverage

Laboratory Equipment

Pharmaceutical

Water