R-CARD® Yeast and Mold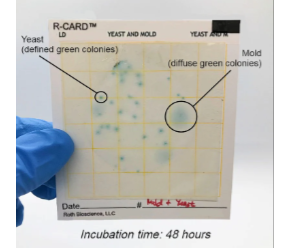 Principle: Detect the presence of yeast and mold and the number of colonies. Simply count the number of green/teal dots that appear after the appropriate incubation period.
Automation: No
Suitability: For detection and enumeration of Yeast and Mold
Capital equipment required: No
Description:
R-CARD® rapid tests require almost no additional equipment and offer an extremely easy user experience. Simply lift the R-CARD® Yeast and Mold clear film and deposit 1 mL of sample on the card or sterile water may be pipetted on the center of the card and the sample may be stirred into the water after collection on a sterile swab moistened with sterile water. Then release the clear film so it can fall back on top of the card, covering your sample. Within 1-3 minutes, the liquid sample will solidify between the two layers. This prevents it from dripping or leaking, making R-CARD® rapid tests incredibly easy to transport and use in the field.
Key Points:
Completely self-contained, requiring almost no additional equipment
Easy to interpret results
Fast results start showing in as little as 24 hours (incubated)
Free technical support on any step of the process
Molds and Yeast will show as green/teal colonies
Areas:
Food & Beverage

Pharmaceutical