R-CARD® Salmonella EC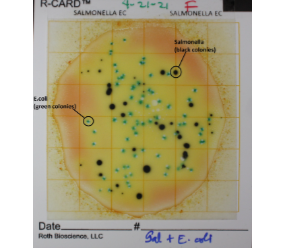 Principle: R-CARD® rapid tests offer a revolution in convenience without sacrificing accuracy. The cards are completely self-contained and don't require Petri dishes, agar, or other gear that's fragile and prone to leak.
Automation: No
Suitability: For detection and enumeration of Salmonella and E.coli
Description:
The R-CARD® test method offers the most convenient, streamlined way to detect not only the presence of Salmonella and E.coli in one test but also the number of colonies, in as little as 18 hours!
Key Points:
Completely self-contained, requiring almost no additional equipment
Extremely accurate and easy-to-understand results
Fast results in 18 hours (incubated)
Free technical support at any step of the process
Salmonella will show up as black dots and E.coli as green/teal dots
Areas:
Food & Beverage

Pharmaceutical

Veterinary