N-Light™ Listeria monocytogenes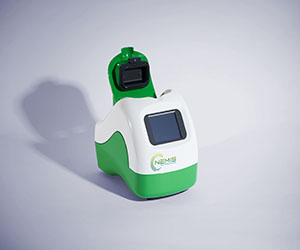 Principle: Ultrasensitive chemiluminescent biosensor technology
Automation: NO
Approvals: AOAC Performance Tested MethodSM License Nr. 122002, validated on stainless steel, ceramic and plastic surfaces.
Suitability: Testing for Listeria monocytogenes in food processing environment
Capital equipment required: YES
Description:
NEMIS N-Light™ Listeria monocytogenes is a qualitative test method for rapid detection within 24 hours of the foodborne bacterial pathogen Listeria monocytogenes in food processing areas and equipment as part of an environmental monitoring program.
Each N-Light™ Listeria monocytogenes kit contains:
Pre-moistened flocked swab
NEMIS Tube and enrichment broth with phage cocktail supplement
Biosafety cap containing Listeria monocytogenes specific AquaSpark™ tablet
Other required equipment that has not been included:
NEMIS Luminometer
NEMIS Dry Block Heater
Key Points:
Cost-effective and affordable on-site rapid detection method for Listeria monocytogenes.
No expertise or laboratory is required to perform the test.
Next day actionable results, which require confirmation with an ISO approved method.
N-Light™ tests empower customers to control their own quality management processes.