MICA Legionella, Legionella pneumophila, CFU Micro Colony Counter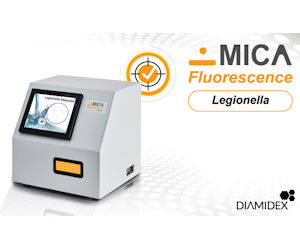 MICA Legionella, Legionella pneumophila CFU/mL or CFU/L counting solution
Principle: Semi-automated Legionella pneumophila counting solution in CFU per liter or milliliter
Automation: Yes
Suitability: Medium to large sample throughput
Capital equipment required: Yes
Description:
MICA is a global semi-automated solution for the rapid counting of L. pneumophila in all water samples. Based on patented technology, it detects all culturable L. pneumophila, of all serogroups in 48 hours only, instead of 10-14 days in the laboratory. Using a culture-based method, it provides a result in CFU allowing better standardization of analyses between regulatory and routine/emergency analyses.
Process:
After sampling, the test is a 3-step process:
Filtration of the samples and preparation of the membranes.
Culture (48h incubation). During this period, L. pneumophila is the only organism able to assimilate a patented molecule that will be found on the surface of each cell.
Washing, marking and automatic counting of L. pneumophila on specific equipment
Technology used:
The counting is carried out by artificial intelligence which analyzes the automated pictures of the membranes. It allows the rendering of a result in 48 hours corresponding to the exact number of culturable L. pneumophila present on each membrane (quantified in CFU).
The result obtained is equivalent to the ISO 11731 standard but with a much lower variability since there is no longer the bias of human manipulation.
MICA uses AI technology for automatic recognition of viable and culturable Legionella pneumophila bacteria.
Key Points:
Competitive price
Fast & reliable results in 48h allowing greater reactivity
Easy to compare with regulatory CFU lab results (CFU/mL or CFU/L)
Easy to use even for non-scientist / sold with a 8 hours training program
Suited for routine/emergency analyses
Up to 6 analyses at a time
21 CFR Part 11 compliant
Integrated traceability system during the protocol
Rights management per user, individual login
Integration with risk management system, LIMS or CRM
To find out more, please visit Diamidex