iQ-Check® Real-Time PCR Solution - Walk-Away Automation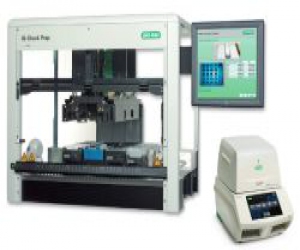 Manufacturer: Bio-Rad Laboratories, S.A.
Principle: real-time PCR
Automation: Fully automated
Approvals: Various depending on assay - includes AOAC-RI, NordVal, Health Canada, NF Validation
Suitability: Suitable for high throughput food and environmental pathogen testing labs
Capital equipment required: YES
Description:
The iQ-Check Solution takes full advantage of real-time PCR to provide a fast and reliable method for food and environmental pathogen testing. It is a complete, flexible, and open solution, allowing industrial microbiology laboratories quick control and reaction in their quality assurance procedures.
Key Points:
Screen for Listeria spp, Salmonella, or other target as part of your environmental monitoring program or HACCP plan
Benefit from short enrichment protocols for Salmonella, STEC, and E. coli O157:H7 detection in raw meat
Detect threshold levels of Salmonella in poultry and rinse samples
Use optimized and simple protocols for difficult matrices, such as spices or cocoa product
Confirm suspect colonies on RAPID'Chromogenic Media
Increase efficiency using our fully automated iQ-Check Prep System
Take advantage of the open software and system (GMOs, allergens, or norovirus detection)