foodproof® Salmonella Detection LyoKit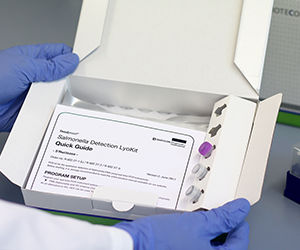 foodproof® Salmonella Detection LyoKit
Principle: Real-time PCR
Automation: Yes
Approvals: Certified by AOAC-RI, MicroVal and NordVal.
Suitability: Suitable for medium to high volume food pathogen testing.
Capital equipment required: Yes
Description:
The foodproof® Salmonella Detection LyoKit is based on 5' nuclease probes and provides rapid, accurate and actionable detection of Salmonella spp.. This highly specific and sensitive product has been validated with hundreds of different food matrices and a total of more than 750 different Salmonella serovars.
Salmonella are rod-shaped, gram-negative bacteria that you cannot see, taste or smell but are one of the most common causes of food-related illnesses among humans and animals, officially known as salmonellosis. The infection usually occurs as a result of ingesting contaminated food and is often referred to as food-poisoning, triggering symptoms such as fever, upset stomach, vomiting, abdominal cramps and diarrhea. The most typical food sources of Salmonella infection include raw and undercooked meat, eggs, unpasteurized milk, raw fruit and vegetables.
Key Points:
100% inclusivity with more than 700 Salmonella strains tested, including representatives of all species, subspecies and serogroups
100% exclusivity with more than 60 strains tested, including closely related organisms and microorganisms of the same habitat
Fast: Only 12-24 h to result with <30 min of hands-on time
Safe: Prevention of false-negative results by internal control and prevention of carry-over contamination using Uracil-N-Glycosylase
Sensitive: 103 cfu Salmonella / ml or less can be detected in food enrichment cultures