EnviroMax® & EnviroMax Plus® Sampling Swabs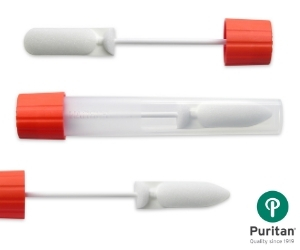 Manufacturer: Puritan Medical Products Co.
Principle: Large surface sampling, or equipment parts
Automation: NO
Approvals: ISO 13485: 2016 • FDA GMP's • CE Marked • Certificate of sterility and/or conformance available with each shipment upon request
Suitability: Environmental surface sampling and food safety
Capital equipment required: NO
Description:
EnviroMax® and EnviroMax Plus® - are the ultimate in environmental sampling and food testing applications from the swab experts at Puritan. We spent time in the marketplace with different end users from food production to cosmetics to pharmaceutical firms. The result, a large, firm foam-tipped swab found in our EnviroMax®/EnviroMax Plus® lines.
Key Points:
For sampling surfaces or large equipment parts
Perfect for spot checks
Convenient dry or pre-moistened swab
Quick-turn-open leak resistant cap
Swab securely attached to cap
Rigid foam paddle tip, round or pointed
White handle and swab tip
Oversized foam tip increases sample and elution counts
Puritan EnviroMax®/ EnviroMax Plus® brand
Shelf life - 12months
Available sterile or non-sterile
Made in USA
Areas:
Clinical

Food & Beverage

Pharmaceutical