Condagene® ViableCell Reagent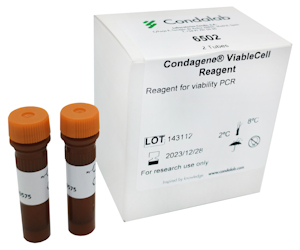 Principle: Viability PCR (v-PCR)
Automation: Yes
Approvals: Scientific reports (doi: 10.1016 / j.mimet.2012.08.007 & doi: 10.1007 /s00284-019-01829-y)
Suitability: Suitable for viability PCR protocols which allow discrimination between live/dead cells in all kinds of food and water samples.
Capital equipment required: No
Description:
Condagene® ViableCell is a reagent intended to neutralize DNA from non-viable cells and/or free DNA that could lead to false positives in PCR-based detection techniques. This reagent cannot cross entire cell membranes associated with cell viability. The results obtained from PCR in samples treated with Condagene® ViableCell are indicators of the presence of viable cells.
Viability PCR (v-PCR) performed using Condagene® ViableCell in a wide range of food and water samples is a reliable and culture-free method that offers sensitive and rapid detection of viable microorganisms. It is a photoreactive, membrane-impermeant, DNA-binding dye that offers superior dead cell selectivity over traditional culture-based methods. The sample is left in contact with the reagent for 30 minutes in the dark; after that, the sample is photoactivated with blue light for 15 minutes. DNA that has encountered the reagent is covalently bound to it, ceasing to be a suitable template for PCR, so only DNA from viable cells will be detected on subsequent PCR.
Key Points:
Sensitive, rapid method vs time-consuming culturing, microscopy or colony counting.
Reliable: extensive bibliography tested and published for a wide range of microorganisms.
Compatible with Next-Gen Sequencing applications.
Suitable for complex sample types
Easy to use: analyze samples easily and with minimal manipulation.
Open system: Condagene is optimized for use with Condagene Extraction and qPCR Kits, and works with different protocols.