Condagene® Salmonella spp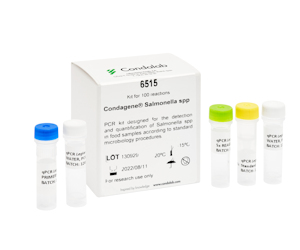 Principle: Real-time PCR
Automation: Yes
Approvals: § 64 LFGB method BVL 00.0098. The PCR probes and primers conform to DIN 10135:2013-05.
Suitability: Detection and quantification of Salmonella spp in food samples.
Capital equipment required: No
Description:
Condagene® Salmonella spp qPCR pathogen detection kit is one of the fastest and most reliable ways to detect Salmonella in food samples.
The traditional microbiological method of detection for Salmonella is long and tedious, it may take you up to a week of work to grow, detect and confirm Salmonella. With Condagene, you'll be able to reduce the time to results drastically; in less than a day and a half of work, you'll get highly specific and reliable results. It is ideal for rapid batch release, screening, and confirmation of suspect colonies isolated in selective culture media.
The genus Salmonella is composed of rod-shaped Gram-negative bacteria. It is the causing agent of salmonellosis, a gastric infection that produces diarrhea, fever, and abdominal cramps. The presence of Salmonella is a sign of fecal contamination in food products, and detecting it fast is crucial in the food industry for fast batch release.
Key Points:
Fast protocol: reduce drastically the time to results compared with the traditional method
Robust method: this PCR kit allows compliance with the technical specifications of the method § 64 LFGB BVL 00.0098 developed by the group "Microbiology of molecular biological methods" of the German Federal Office of Consumer Protection and Food Safety
High specificity: thanks to the addition of highly specific probes, Condagene Salmonella spp offers precise and reliable results. The PCR primers and probes contained in this kit also comply with DIN 10135: 2013-05
Easy-to-use: Less manipulation and use of reagents than in traditional microbiology.
Open-system: there's no need to acquire new equipment for your lab, Condagene works with the vast majority of real-time cyclers of the market
Reliable results: due to the presence of UNG and IPC controls in the kit, you'll get accurate results every time