Condagene® Legionella spp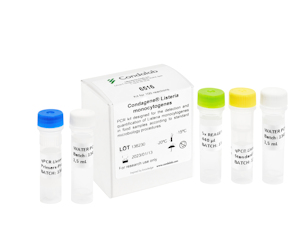 Principle: Real-time PCR
Automation: Yes
Approvals: Designed following ISO/TS 12869
Suitability: Suitable for Legionella spp. detection in water samples, such as drinking water, sanitary hot water and cooling tower water, and many other water sources.
Capital equipment required: No
Description:
Condagene® Legionella spp qPCR pathogen detection kit is one of the fastest and most reliable ways to detect Legionella in water samples. This kit is designed to detect and quantify Legionella spp. in samples of drinking water and all kinds of (treated and untreated) continental water.
The traditional microbiological method of detection for Legionella is known for being long and tedious. With Condagene Legionella spp you'll be able to detect this dangerous pathogen in just a day and a half of lab work instead of the average two weeks of the traditional method.
The genus Legionella is formed by pleomorphic gram-negative bacteria. The most well-known member of this genus is the species L. pneumophila, which is the causative agent of legionellosis, also known as Legionnaires' disease. This disease is a type of pneumonia that can be fatal, especially in unhealthy individuals.
Key Points:
Fast protocol: reduce drastically the time to results compared with the traditional method
Robust method: this PCR kit allows compliance with the operational requirements of the technical standard TS/ISO 12869
High specificity: thanks to the addition of highly specific probes, Condagene Legionella spp offers precise and reliable results
Easy-to-use: its user-friendly protocol will help you analyze your samples with total ease
Open-system: there's no need to acquire new equipment for your lab, Condagene works with the vast majority of real-time cyclers of the market
Reliable results: due to the presence of UNG and IPC controls in the kit, you'll get reliable results every time