C4Hydro Coliforms Water Test (by Diamidex)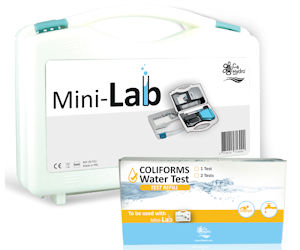 C4 Hydro Coliforms Water Test
Principle: Rapid detection kits for culturable Coliforms bacteria (including E. coli) in 24H
Automation: No
Suitability: Low to medium sample throughput /private individuals and professionals alike / 1 test kit for 1 water sample
Capital equipment required: Yes: Mini-Lab by C4Hydro
Description:
The Coliforms Water Test Kit allows a rapid detection of culturable coliforms bacteria (including E. coli) from 1CFU/ 10 mL in all water samples in 24 hours.
The test works with 2 elements:
The Mini-Lab: a pocket laboratory (reusable and compatible with other test kits)
1 Coliforms Water Test Kit which contains the reagents that reveal the bacteria.
After sampling, the bacteria are enclosed in a portable mini incubator that reproduces laboratory culture conditions. After 24h of incubation time, the result is simple to read and operates via the colouring of the sample: if the sample turns yellow, the test is positive.
Key Points:
Based on the culturing of coliform (including E. coli) bacteria allowing lab-quality results
Fast and reliable results in 24h 
Autonomy: easy to conduct and to carry
Simplified scientific protocol adapted for use by all: no special scientific knowledge required
Suitable for routine control (threshold 1CFU/10mL)
Suitable for all water samples (all bathing waters: swimming pools, spas, lake and seawater; all drinking waters: tap, well, cistern, spring water…)
To find out more, please visit C4Hydro