ATP Hygiene Monitoring for Surfaces or Liquids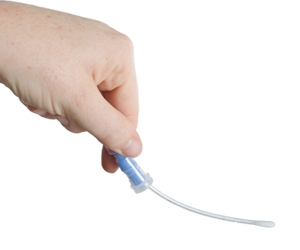 Manufacturer: Hygiena International
Principle: ATP bioluminescence
Approvals: Third party verification studies
Suitability: Hygiene monitoring and cleaning verification. Biomass monitoring.
Capital equipment required: Luminometer
Description:
All-in-one sample collection and testing device for use with a luminometer to measure residual contamination on surfaces or in liquid samples giving results in 15 seconds. The device contains a liquid-stable reagent in patented snap valve technology for consistency, convenience and ease of use. The pre-wetted swab ensures good sample collection and recovery.
Key Points:
Product type

UltraSnap (surface test)
SuperSnap (high sensitivity surface test)
AquaSnap Free and Total ( liquid samples)
SnapShot / Watershot (for bespoke luminometers)

Pre-wetted swab enhances sample recovery
Superior sensitivity and repeatability
Results provided in 15 seconds
Works with most luminometers
Robust and tolerant reagent
Long shelf life 15 months