17th November 2017 Content supplied by: Hygiene International
Whittlebury Hall Hotel & Spa Chooses Hygiena to Verify Cleanliness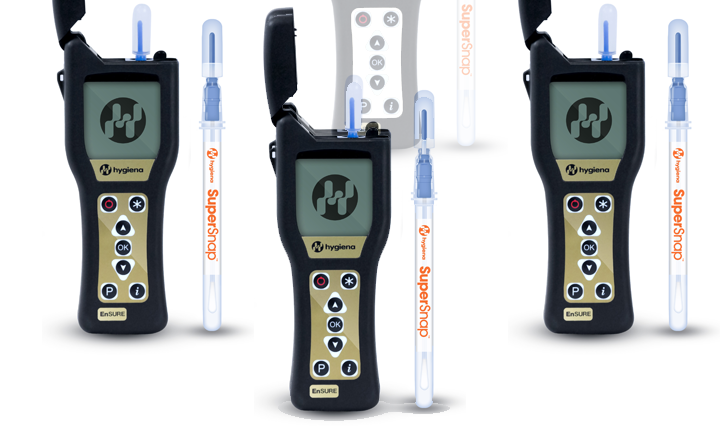 Hygiena's high-performance food safety monitoring solutions have been selected by the award-winning Whittlebury Hall Hotel & Spa to verify cleanliness across its catering facilities. The 4-star establishment uses Hygiena's EnSURE™ Monitoring System and SuperSnap™ high-sensitivity ATP surface tests systems to achieve and maintain the highest standards of hygiene and infection control, including in its two AA Rosette restaurant. SuperSnap is a highly sensitive device capable of detecting extremely low levels of adenosine triphosphate (ATP), and generating accurate and repeatable results in the EnSURE luminometer within just 15 seconds. Using the combined power of SuperSnap and EnSURE, the Whittlebury Hall Hotel & Spa ensures effective allergen and cross-contamination prevention without the need for expert knowledge or additional testing equipment.
Demonstrating superior resistance to concentrated sanitisers and harsh environments, the all-in-one SuperSnap, used in combination with EnSURE, is a hundred times more sensitive than similar models available on the market. Results can be generated in seconds, enabling the team at the Whittlebury Hall Hotel & Spa to identify risks and issues in real time and immediately implement corrective measures. In addition, SuperSnap and EnSURE offer optimal simplicity for effortless use by experts and novices alike. SuperSnap is a simple swab, snap and squeeze system, while EnSURE has been designed for convenient, single-hand use. Ease of use comes without compromising durability, with EnSURE featuring a rugged outer shell and splash-proof keypad, and SuperSnap exhibiting a 15-months shelf life at refrigerated temperatures and four weeks at room temperature.
"Since using Hygiena's ATP monitoring systems, awareness of the effectiveness of our cleaning procedures has greatly improved among team members, and the chances of contamination have been reduced," says Craig Rose, Estate Executive Chef at Whittlebury Hall Hotel & Spa. "Hygiena's rapid and easy-to-use testing equipment has encouraged our kitchen personnel to keep improving and be responsible for their test results. Ultimately, the systems ensure that all food served to our guests and team members is safe across the entire estate."
"We are very excited to be helping such a reputable business as Whittlebury Hall Hotel & Spa offer their guests the best possible experience by meeting their highest hygiene and sanitation expectations," explains Dr Martin Easter, Chief Scientific Officer at Hygiena. "There are few environments where the standard of cleanliness plays a more crucial role than in the hospitality industry. We therefore take pride in offering an all-inclusive portfolio of testing solutions to provide round-the-clock verification of the effectiveness of cleaning processes and allow companies in the sector maintain their customers' health and safety at all times."
Hygiena offers a comprehensive range of products to help businesses in the hospitality industry verify cleanliness in guest rooms, kitchens, water systems and spa facilities. The products are used across many applications, including food inspections following a successful trial in Olympic and Commonwealth games. Using the systems, companies measure and optimise cleaning procedures, improve staff awareness, commitment and productivity, and ensure compliance with cleaning protocols whilst generating objective evidence of due diligence.
Learn more about Hygiena's powerful food safety testing product range here.
Tags:
Date Published: 17th November 2017
Source article link: View
Related news