24th April 2012 Content supplied by: Medical Wire & Equipment Co
∑-Virocult® - The Device of Choice for Transport of Viral Specimens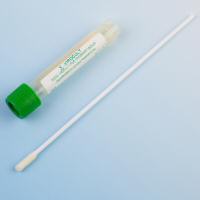 Increasing specialisation and centralisation of virology testing means that specimens often have to be transported over long distances and under variable conditions - whether for direct diagnosis, or for epidemiological surveillance.
CLSI's M40-A standard seeks to represent this challenge by the requirement for virus specimens in transport devices to be preserved and remain infective for at least 96 hours in ambient or refrigerated temperatures.
Sigma-Virocult® (∑-Virocult®) meets all these requirements with flying colours, and is widely used for respiratory, sexually transmitted and skin-associated viruses. Virocult® medium has long been recognised as one of the best for the preservation of infectivity for many viruses (Johnson (1990), Rudsdale (2009)), and recent studies have shown that Sigma-Virocult® with its cellular bud has improved on this (Valette (2010))
In a study presented at CVS in 2010, ∑-Virocult® maintained influenza specimens for at least 14 days at both room temperature and refrigerator temperature. Live virus was detected by EIA after the holding period, or by CPE on MDCK cells, while viral RNA was maintained and detectable by RT-PCR, without any loss of viral load. A more recent study, using Influenza A H1N1/2009 at this year's ECCMID in London also showed viral RNA levels maintained at stable levels at ambient temperature for at least 4 days, including for 10-5 dilutions.
Other studies have shown similar stable recoveries at room and refrigerator temperatures for different viruses including Herpes Simplex Types 1 and 2, Varicellar Zoster, Adenovirus, Rhinovirus, Influenza B, Parainfluenza, Measles, and Respiratory Syncytial Virus.
∑-Virocult® is supplied as a complete sterile transport device for virus specimens. The swab consists of a cellular polyurethane foam bud on a plastic shaft with breakpoint. There is a choice of swab shafts and buds for all specimen types. The regular defined cellular structure of the foam material ensures optimum absorption and release of the specimen, with complete access for all reagents for full test sensitivity. The collection tube contains Virocult® liquid medium, and has a screw cap with integral swab capture.
∑-Virocult® is CE-marked, and FDA -approved, and is the device of choice for safe recovery of viral specimens over extended periods whether refrigerated, or under room temperature conditions.
Further reading:
1. CLSI, 2003, Quality Control of Microbiological Transport Systems: Approved Standard NCCLS Document M40-A
2. Johnson F. B., Transport of Viral Specimens, p.120-131. Clinical Microbiology Reviews, Vol. 3, No. 2, April 1990.
3. Rudsdale, A., Evaluation Of A Virology Specimen Transport Device With Six Viruses Using CLSI Standard M40-A, Poster C-053 American Society of Microbiology, 109th General Meeting, Philadelphia, 2009
4. Valette, M., M. Bouscambert-Duchamp, R.Fanget, S. Lambert1 & B. Lina, 2010, Comparison Of Virocult® Swab, S-Swab® And S-Virocult® For Influenza A Viability For Cell Culture And Molecular Detection, Poster S84, Clinical Virology Symposium 2010, Daytona Beach.
5. Valette, M., R. Fanget, G. Burfin, D. Shedden & B. Lina, 2012, Evaluation of Suitability of Various Novel Swab Devices for The Molecular Detection of Influenza A from Surveillance Samples in France, Poster P919, ECCMID 2012, London
Further information - download brochure
Please note : Any products described on this page are for Research Use Only and not intended for clinical diagnostic procedures unless otherwise stated.
Tags:
Date Published: 24th April 2012
Source article link: View
Related news