14th August 2020 Product update: Paul Carton
UK Completes Assessment of COVID-19 Lateral-Flow IgG Kits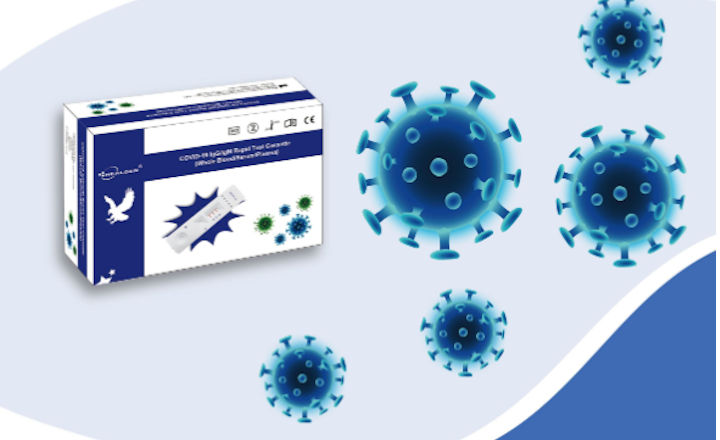 A study on COVID-19 lateral-flow immunoassays (LFIAs) for their specificity, sensitivity and ease-of-use by the general public has concluded that Healgen Scientific's (Zhejiang Orient Gene Biotech) COVID-19 IgM/IgG Test to be the best out of eleven LFIAs evaluated. The test has already received US FDA-EUA. 
The study carried out by the UK Government's REACT 2 team which has been published in the journal Thorax, is the biggest and most robust study on LFIAs. It analysed 11 LFIAs to evaluate their accuracy and ease of use among NHS workers, comparing them to gold standard lab-based antibody tests.
The research team found a total of 4 self-tests that are able to accurately identify individuals with antibodies over 80% of the time, while also correctly ruling out those who don't in more than 98% of tested individuals. However, none of these tests met MHRA criteria for use outside of surveillance studies.
In parallel with LFIA study, the REACT 2 team carried out a seroprevalence study on the general public using only two LFIA kits; Fortress Diagnostics and Wondfo. However, it must be noted that in the LFIA assessment, run in parallel, the Fortress' test was second best and Wondfo was the worst.
This seroprevalence and self-test usability for the general public study is published in Clinical Infectious Diseases. It is one of the most extensive studies of the usability of home testing to date. With over 14,000 participants, the two LFIAs were used by members of the public who gave feedback to improve the process for testing in the broader study of 100,000 volunteers.
The study found that over 97% of people were able to perform the test on their own successfully, and up to 94% had a valid result. Importantly, participants ability to read their test results on their own was very similar to that read by a clinician.
The findings indicate that 3.4 million people – 6% of the population – had already been infected by COVID-19 by 13 July 2020, with variations across the country. 
Key findings of the report on the national home testing study include:
In London, 13% of people had antibodies while in the South West of England, it was less than 3%.


The study showed high rates in those with people-facing jobs in care homes (16%) and health care (12%), compared to 5% of people who were not key workers.


There were far higher rates in people from Black (17%), Asian (12%) and other (12%) than whites (5%) ethnicity. Work is underway between the Department of Health, local Directors of Public Health and local authorities to understand and mitigate risks of transmission for BAME communities at a local level.


Almost everyone with a confirmed case of COVID was found to have antibodies (96%).#


Those aged 18 to 34 were most likely to have antibodies (8%) with the lowest prevalence in those over 65 (3%).


People living in the most deprived areas had higher antibody levels than those in the wealthiest areas (7% compared with 5%).


People living in households of more than 6 or 7 people (12%, 13%) were more likely to have had the virus compared to those living alone or with one other (5%)


People who smoked were less likely to have antibodies than non-smokers (3% compared to 5%).


32% of people reported no symptoms, and this was more common in people over 65 (49%).
The report is available here.
REACT 2: "This surveillance study will be repeated in autumn and will test a further 200,000 people for antibodies. While some antibody tests require a larger sample of blood and for the sample to be sent back to a lab, these home antibody tests can be used at home, providing results in under 15 minutes and are more practical for use in large scale antibody surveillance studies."
"However, no LFIA is yet approved for home use outside of a research study. Testing positive for antibodies does not mean you are immune to COVID-19. Currently, there is no firm evidence that the presence of antibodies means someone cannot be re-infected with the virus. If someone tests positive for antibodies, they still need to follow national guidelines, including social distancing measures, getting a swab test if they have symptoms and wearing face coverings where required." 
Background information
The REACT programme, which has been commissioned by the Department of Health and Social Care, is being carried out in partnership with Imperial College Healthcare NHS Trust and Ipsos MORI.
The MHRA is the national regulator for medical devices and verifies all tests. For finger prick antibody tests to be suitable for wider use outside of academic surveillance studies, it recommends a sensitivity of at least 98%, correctly identifying those who have had coronavirus infection, and specificity of at least 98%, correctly identifying those who have not had coronavirus infection.
None of these 11 tests evaluated during the first REACT 2 study met all criteria, and no other tests have met these criteria yet.
REACT 2 Study 1: The research team assessed 11 tests on just under 300 NHS workers who had recovered from COVID-19 at least 21 days previously, and participants were asked to fill out a survey on how easy the tests were to use.
Each device was assessed according to the manufacturer's instructions and performed first by the NHS worker, followed by a technician. The tests were then compared against the accuracy of a lab test. Researchers also evaluated the tests on a batch of 500 blood samples from before the pandemic.
The tests were evaluated on people with a mild infection, who had not been hospitalised. Individuals who have had a mild infection are less likely to have launched a strong immune response to the infection, meaning they may only have low levels of coronavirus antibodies.
Testing on these individuals will, therefore, give a good indication of whether the tests are suitable for large-scale community testing on the general population, outside the hospital setting, where cases are less severe.
The sensitivity of the 11 tests was variable, ranging from 21% to 96%, and in all cases was lower than what manufacturers reported. Tests which were more than 80% sensitive underwent further specificity testing.
On specificity, the finger prick tests were found to correctly identify the absence of antibodies 97% of the time and were therefore deemed suitable for use in national-scale antibody studies. Six had specificity over 98%, which the UK Medicines and Healthcare products Regulatory Agency recommends as the minimum level for use in clinical settings. This means they are reliable enough for use as a healthcare test at individual level as they provide a low number of false negatives.
There are two types of antibodies produced, called IgG and IgM. Some lateral flow antibody tests are looking for the presence of both and some just for one.
This study looked at the sensitivity and specificity rates for detecting IgG antibodies to the coronavirus. These are typically long-lasting antibodies produced in response to infection.
REACT 2 Study 2 and 3: A major public involvement exercise and usability study were carried out with members of the public to assess how easily people can use the antibody tests at home without supervision. Feedback from an initial pilot study involving 315 people was used to guide the design of the antibody testing pack and instruction guides.
The findings of this study were also used to inform a large-scale survey of adults in England, involving 14,400 volunteers, who took one of two different antibody tests and provided feedback. This work underpinned the launch of REACT 2 Study 5, the population study of 100,000 volunteers.
Devices with lower sensitivity can still play an important role in surveillance studies as long as the specificity is high enough, and the results are not used to guide behaviour.
Tags:
Date Published: 14th August 2020
Source article link: View
Note: This content has been edited by a rapidmicrobiology staff writer for style and content.