1st February 2017 Content supplied by: Tecta-PDS
TECTA-B16 Gets Philippines DoH Approval for Testing Drinking Water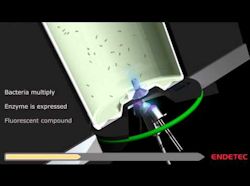 The Tecta-B16 automated microbial detection method has just received official approval from the Philippines Dept of Health for testing water samples so adding another global market to their growing list of regions adopting their revolutionary way of testing drinking water for microbial contaminants.
National Reference Laboratory - Dept. of Health, Philippines (NRL-EAMC) NRL–EAMC is the reference laboratory for environmental occupational health, toxicology and micronutrient assay. It is here that the nation depends on accurate testing of the drinking water and other samples to ensure the safety of a large population under the strains of running close to 800 water samples a month with limited manpower.
The cost of shipping remote samples as well as microbial outbreaks which need fast and accurate detection all resulted in a 2 year evaluation of the Tecta B16 system, the only US EPA-approved automated method for E.coli bacteria globally.
The NRL validated the TECTA-B16™ unit with both environmental samples and spiked lab samples, challenging the accuracy of the method to detect very low levels of E.coli as well as high concentrations. The NRL technicians experienced the instrument's sensitivity as it detected positive results in samples spiked with as low as 1 CFU/100mL. They were also shocked to see the instrument detect and provide results for samples with higher concentrations of target organisms in as little as 2 hours, without the need for sample dilutions or manipulations.
After strict and thorough statistical analysis, NRL released their TECTA-B16™ Evaluation Report approving it as an accepted alternative method for detection of total coliform and E.coli, which is acknowledged by the Philippines Department of Health.
Tags:
Date Published: 1st February 2017
Source article link: View
Related news