18th February 2013 Content supplied by: BioLumix
Tackling Nutraceutical Products with Rapid Automated Microbiology Testing!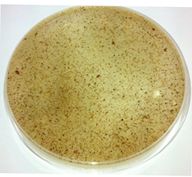 Spirulina, turmeric, Psyllium, honey, Calcium carbonate, dyes, and oils. These are just a few of the many products that the Nutraceutical industry works with, and struggles with. However, microbiology quality assurance requires any such product to be tested. Nutraceutical products come in a wide variety of colors and compositions that can make it difficult to process the samples and count colonies on plates. Some products cause the coloring on plates to be so dark that one cannot see the actual colonies, other samples have particulate matter that resembles colonies or hides them altogether making counting plates time consuming and inaccurate. The BioLumix vials not only streamline microbiological testing, but also make the challenging samples easier to work with due to the fact that color, particulate matter, and sticky samples do not interfere with the ability of the system to detect growth of organisms. Below are a few examples of samples that many struggle with:
[caption id="" align="alignright" width="200"]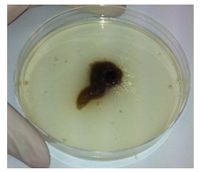 Figure 1: Psyllium Husk forming a 'blob' in plate due to the inability to mix the product with the agar media[/caption]
Psyllium is the husk of the seed of a Plantain and is used to improve digestion and cleanse the digestive system; it is an excellent dietary supplement. However, before it reaches the shelves for sale, the product needs to be tested in the laboratory, to be sure it is free of harmful microorganisms and is safe for consumption. This particular product is a spongy fiber, and when it is added to an enrichment broth or diluent, it begins to swell, and harden into a sticky substance that is very difficult to pipette and mix with the agar on the plate. Figure 1 shows the lack of mixing of 1.0 ml of a 1:10 dilution of the Psyllium with the agar.
To avoid this sticky situation, necessary dilutions can be performed quickly and added to the appropriate BioLumix vials before the product has a chance to harden. Even though, the product will become a bit harder after being added to the BioLumix vial, the growth of organisms will not be inhibited.
Spirulina and turmeric - both colorful raw materials (and different dyes used to color capsules) may make it difficult or even impossible to see and count colonies on pour plates as can be seen in figure 2. Because the BioLumix CO2 sensor is impermeable to liquids and colors, no product interference due to color of the product will impact the results.
[caption id="" align="alignleft" width="234"]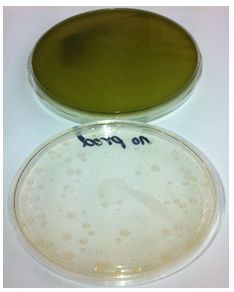 Figure 2: Inoculated Spirulina (top) and the same inoculum without the product[/caption]
Particulate matter is always a concern during sample preparation, and rightfully so. As shown in Figure 3, it is sometimes impossible to tell the difference between product and colony. The BioLumix vial is not affected by particulate matter because only CO2 gas can penetrate the CO2 sensor. As a result, there is no product interference from particulate matter present in the sample.
The Problem: The inability to achieve homogenous mixtures, excess color, and particulate matter are three major causes of inaccurate plate count results when testing Nutraceutical and dietary supplement products for microbiology.
The Solution: The BioLumix vial is able to support growth of organisms in a favorable broth environment, and these problems do not interfere with results. The BioLumix System is an automated microbial testing system designed to accelerate product release with a simplified, approach. This yields fast, accurate results while reducing costs. No more waiting days for completed assays. The BioLumix System brings automated microbiological testing in house with most assay results achieved over night. It is simple enough to be operated by non-microbiologists, providing accurate data of raw materials, environmental samples, and finished products.
Tags:
Date Published: 18th February 2013
Source article link: View