25th May 2017 Content supplied by: Alpha Laboratories Ltd
Sensitive, Reliable and Rapid Detection of Cryptococcal Infection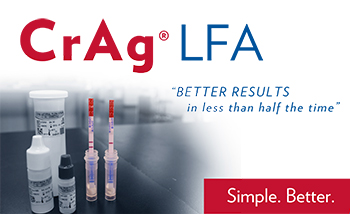 The IMMY CrAg® LFA (Cryptococcal Antigen Lateral Flow Assay) is the first and only immunochromatographic dipstick assay for the qualitative and semi-quantitative detection of the cryptococcal capsular antigen in serum, plasma and cerebrospinal fluid (CSF). Available exclusively in the UK from Alpha Laboratories Ltd., it has revolutionised cryptococcal antigen testing, delivering excellent sensitivity across all serotypes of Cryptococcus. CrAg LFA can detect all four CrAg serotypes with improved sensitivity for C. gattii infections (Serotype C).
The test involves 5 easy steps with no equipment required and no specimen pre-treatment. It takes only 10 minutes with less than one minute hands-on time. The CrAg LFA is easily scaled up to handle multiple samples, meeting the needs of both small and large volume laboratories. It allows for titer determination (semi-quantitation) with up to five times more sensitivity than other cryptococcal antigen tests on the market. Implementation of CrAg LFA eliminates subjective interpretation of agglutination patterns and allows for improved laboratory workflow due to its low training threshold and ease-of use.
Cryptococcosis, a fungal disease caused by Cryptococcus species complex (Cryptococcus neoformans and Cryptococcus gattii), is one of the most common HIV-related opportunistic infections. Every year, approximately 1,000,000 cases of cryptococcal meningitis occur globally, resulting in more than 1,700 deaths every day. Patients undergoing organ transplantation or aggressive treatment of cancer and connective tissue diseases are also at risk of developing the disease due to immunosuppression.
However, even though coexisting immunodeficiencies are a risk factor for cryptococcosis, there is a subgroup of cases with no apparent underlying condition that develop disseminated cryptococcosis. Therefore, clinicians must consider this fungal disease in many circumstances and apply the best available diagnostic tools, sensitive enough to detect cryptococcal infection in HIV-negative patients, whose fungal burden may be lower.
Visit www.alphalabs.co.uk
Please note : Any products described on this page are for Research Use Only and not intended for clinical diagnostic procedures unless otherwise stated.
Date Published: 25th May 2017
Source article link: View