15th December 2014 Content supplied by: TCS Biosciences
New Five Disc Format for Selectrol® Neisseria gonorrhoeae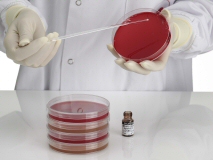 Selectrol® Neisseria gonorrhoeae strains containing 10 freeze-dried discs have occasionally shown reduced viability by the time the last discs in a vial are used. This is due to the effect of the repeated thawing and freezing cycles to which the product is subjected during use, which can damage the cells of Neisseria gonorrhoeae to a greater extent than occurs with less fastidious bacteria.
To counteract this problem, Selectrol® products MM05 and MM96 will no longer be supplied in 10-disc format, but will be available in a new 5-disc format, with product codes MM05-5 and MM96-5 respectively. The 5-disc format will ensure that the last disc used contains sufficient viable bacteria to produce adequate growth when cultured. MM05-5      Neisseria gonorrhoeae NCTC 8375 / ATCC® 19424 - 5 discs MM96-5      Neisseria gonorrhoeae NCTC 12700 / ATCC® 49226 - 5 discs
If you have any questions regarding the new pack size, please  contact our Customer Service team.
Date Published: 15th December 2014
Source article link: View
Related news