26th June 2018 Content supplied by: Micronics, Inc.
Screw Cap Specially Optimized for Automated Handling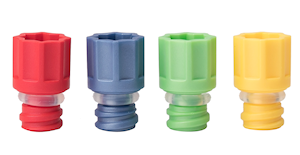 Micronic has launched the new the Screw Cap Ultra which is the latest addition to the range of caps for tubes with an internal thread that Micronic offers to seal tubes. The design of the cap is optimized for automated and manual handling. The high-quality silicon O-ring of the cap fits inside the sample storage tube, creating a ''hard'' stop between the cap and the tube. This unique closure also enhances the sealing performance for tubes with an internal thread.
The Screw Cap Ultra is available in 4 different premium 'pearl' colors: blue, light green, yellow and red. The different cap colors enrich the tube identification process. The color provides a visual clue that works faster than text alone. By adding cap color coding next to 1D and 2D barcodes, users can speed up sample storage and retrieval time, eliminate human errors, and reduce the risk of lost samples.
The Screw Cap Ultra is designed to be compatible with the Micronic Screw Cap Recappers and other automated systems. Hence, the cap is particularly suitable to be used in the process of standardizing the workflow in a laboratory. The improved sealing performance of the cap leads to a reduction of sample loss and an enhanced sample integrity. The working range of the Screw Cap Ultra is between: Vapor phase LN² and +100°C. This makes it possible to use the cap for short-term and long-term sample storage in extreme temperatures.
The Micronic caps are produced in certified class-7 clean rooms at facilities in both the Netherlands and the United States. The caps are made from the highest purity polypropylene (CE-IVD) and are RNase/DNase and pyrogen free. The caps are available in bulk and precapped on Micronic Tubes with Internal Thread.
For more information, contact sales@micronic.com or call your local Micronic sales office: www.micronic.com/contact
Please note : Any products described on this page are for Research Use Only and not intended for clinical diagnostic procedures unless otherwise stated.
Tags:
Date Published: 26th June 2018
Source article link: View