12th September 2013 Content supplied by: R-Biopharm AG
RIDASCREEN® Listeria ELISA - Reliable, Proven, Low Cost Technology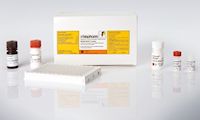 People may think that it is somehow 'old fashioned' to be using ELISA techniques in food microbiology when everybody is now focusing on molecular diagnostics. But in the same way as sample screening methods have to be robust and reliable, they also need to be cost effective. Robustness and reliability in bacterial detection at a low cost per test - this is the concept behind RIDASCREEN® listeria.
Using this test kit which has been developed based on the proven sandwich enzyme-linked immune-sorbant technology, Listeria species can be detected qualitatively. The basic requirement for reliable detection is the standard pre-enrichment procedure (e.g. selective enrichment method according to Fraser). The only human pathogenic member of the genus Listeria, L. monocytogenes, will be also be detected by the test system.
The newly developed RIDASCREEN® listeria has been subjected to an internal validation which took almost a year to complete and included tests for sensitivity, robustness and specificity. During the test phase several pilot production batches have been compared and used to analyze a broad range of different Listeria strains. In addition several food types have also been checked. All studies showed that the performance of RIDASCREEN® listeria is absolutely comparable to classical methods for detection of Listeria contaminations in food.
Tags:
Date Published: 12th September 2013