7th May 2013 Content supplied by:
Real-time PCR Assay Awarded OMA Status for Detecting Salmonella
Hygiena has acquired DuPont Diagnostics, the global food safety diagnostics business of DuPont. Including the BAX® System, RiboPrinter® System, Lateral Flow System, StatMedia™ and Dehydrated Culture Media. Visit
www.hygiena.com/bax.html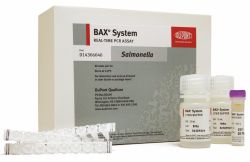 The DuPont™ BAX® System assay for detecting Salmonella - the first method to undergo a new approval process by AOAC INTERNATIONAL utilizing expert review panels - has been recognized as AOAC Official MethodSM of Analysis (OMA) 2013.02. This molecular-based method uses polymerase chain reaction (PCR) technology and real-time detection to deliver fast and accurate testing results.
certification of Performance TestedSM claims by the AOAC Research Institute, the OMA validation studies demonstrated consistent reliability and repeatability of the BAX® System method when testing for Salmonella in a variety of food types such as meat and seafood, beef trim, poultry and eggs, dairy products, produce, cocoa, pepper and infant formula, along with pet food and environmental samples.
"With this latest approval, our entire portfolio of BAX® System Salmonella assays is OMA-approved," said Doris Engesser-Sudlow, global diagnostics leader, DuPont Nutrition & Health. "This means that food companies can choose among our certified methods for the best fit with their food protection needs, confident that each will provide consistently accurate results."
Tags:
Date Published: 7th May 2013
Related news