8th May 2023 Content supplied by: Sartorius AG
Pipetting Academy: ISO Certified Training to Enhance the Quality of Your Work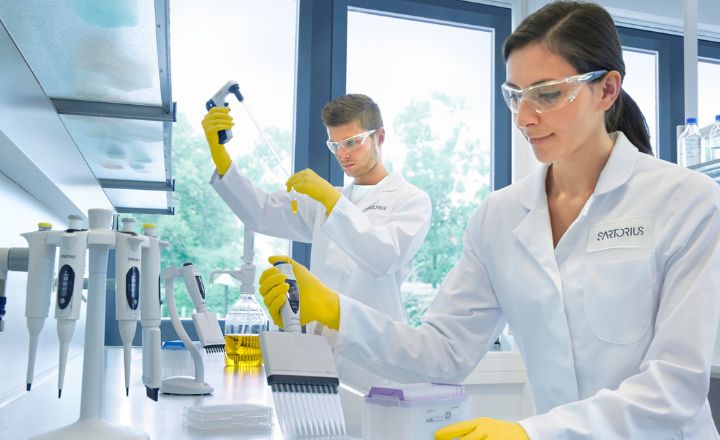 Learn everything you need to know about pipetting
Sartorius Pipetting Academy offers training and content aimed at not only beginners to pipetting but also to experienced lab professionals. Pipetting Academy modules are a balance of theory and hands-on sessions. They are packed with tips and tricks that help you get the most out of your pipetting.
Benefit from hands-on training on pipetting tricks and skills
Pipetting Academy is all about enhancing the quality of your work and pipetting skills and results. See it for yourself and watch our tutorial video on basic pipetting skills.
ISO 9001 Certified Training Program
Pipetting Academy is an ISO 9001 certified training program. You will get high quality training from the certified Pipetting Academy trainers. The ISO certified Pipetting Academy guarantees that the laboratory personnel will be trained with the pipetting knowledge and skills necessary to master their tasks and meet quality requirements.
Learn...
the essentials of pipetting
correct and safe pipetting techniques
pipette maintenance and calibration procedures
to apply the best pipetting ergonomics for your daily work
to master pipetting for several demanding applications
 
Is laboratory work and the results an integral part of your job?
Are you responsible for quality management or occupational health and safety?
Enroll in the Pipetting Academy now! Pipetting Academy offers useful insight and training for pipetting related topics. It is a comprehensive combination of theory and practice that provides you with knowledge and tips for your daily work. Thousands of laboratory professionals around the globe have been trained in the Pipetting Academy over the past decades.
Sartorius offers several Pipetting Academy training modules - from basic to advanced level training. We continuously develop training content and introduce new modules regularly. Select the right modules for your needs!
Basics of Pipetting
Ergonomics
Pipetting Techniques
Pipetting in Cell Culture Applications
Pipetting Standards and Maintenance
Best practices for Working with proteins
Best pipetting practices for Nucleic Acid work
Best practices for Cell-based sample preparation
Learn about:
Sartorius electronic pipettes: Electronic Pipettes for Laboratories | Picus® | Sartorius
Sartorius mechanical pipettes: Mechanical Pipette | Ergonomic | Tacta® | Sartorius
Interested in getting to know the pipetting academy and its training modules? Click here to contact Sartorius.
Tags:
Date Published: 8th May 2023
Source article link: View