9th March 2020 Author: Pinpoint Science
Pinpoint's Low-Cost Handheld Covid-19 Aptamer-based Diagnostic Device in Development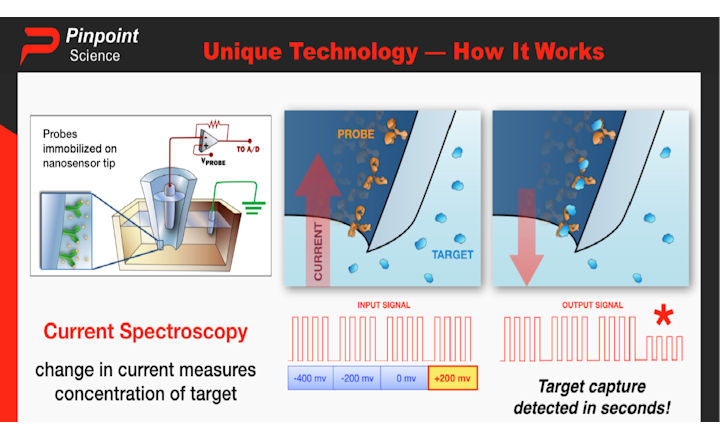 Image: Courtesy of Pinpoint Science
An accurate Covid-19 diagnostics test that can be performed by anyone, anywhere is in development at Pinpoint Science's laboratories in Berkeley, California. The handheld device, which will provide results within 30 seconds, could potentially replace or complement the thermal screening protocols currently in action at airports and border controls. 
A nasal or throat swab is taken from an individual and through the use of nanosensor technology, a viral agent is detected. Aptamers, explicitly synthesised for the nucleocapsid protein of SARS-CoV-2, are deployed and provide the user with a rapid result. No refrigeration or preparation of the sample is required. The nanosensor-based assay will be able to detect Covid-19 in both symptomatic and asymptomatic cases accurately and distinguish the novel coronavirus from influenza and other common respiratory pathogens.
A prototype of the device, which is planned to be marketed globally, is expected in six months with initial clinical validation performed at Shenzen University Hospital, China."We will provide prototypes to several research labs for independent analytical validation. We will seek FDA EUA, CE-marking, and fast-track approvals in China and Japan", Lisa Diamond, CEO at Pinpoint Science, told rapidmicrobiology.com. 
Please note : Any products described on this page are for Research Use Only and not intended for clinical diagnostic procedures unless otherwise stated.
Tags:
Date Published: 9th March 2020
Source article link: View