26th October 2015 Content supplied by: Synbiosis
Oxford Vaccine Group Improves Vaccine Potency Determination with Protocol 3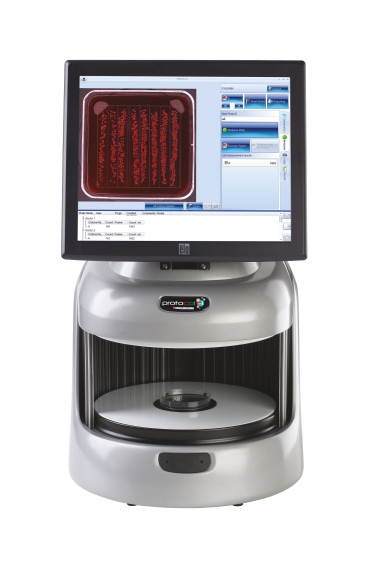 Synbiosis has announced that its ProtoCOL 3 automated colony counter is being used at a world-renowned UK vaccine research facility, the Oxford Vaccine Group to speed up throughput of their vaccine testing programmes.
Microbiologists in the Oxford Vaccine Group at the University of Oxford are using the ProtoCOL 3 an automated colony counter to count colonies on their post SBA (serum bactericidal antibody) assay test plates to rapidly determine each vaccine's potency from colony counts.
Using the ProtoCOL 3 is helping this group's immunologists to significantly increase their throughput when determining the efficacy of vaccines against capsular group B meningococcal bacteria, a major cause of childhood meningitis.
Dr Christina Dold, Research Assistant at the Oxford Vaccine Group explained: "We used to perform the counts of our plates after SBA by eye using a light box and a pen to count around 60-120 tiny colonies per streak in six streaks on each plate. This was quite difficult work, taking hours to complete and input the data. We needed to increase our throughput, as we are being asked to take on larger assessments of clinical and pre-clinical vaccines and as a result had to automate colony counting."
Christina added: "We were recommended the ProtoCOL 3 by a reputable American meningococcal vaccine research group. We tested the system and were so impressed with its performance that we decided it was exactly right for our research. Using the ProtoCOL 3 has totally changed the way we work, we can now count around 300 SBA agar plates per day, as well as generate results on vaccine potency, something which would have taken us a week to do manually."
"Manual colony counting and result recording are tedious, error prone activities if undertaken on a large scale," commented Kate George, Divisional Manager at Synbiosis, "and are areas where the ProtoCOL 3 is helping immunologists in the prestigious Oxford Vaccine Group to make productivity step changes with their testing. Their application of these powerful technologies demonstrates that the ProtoCOL 3 automated colony counter is an intelligent choice for forward thinking research institutes and pharma companies that need to significantly speed up vaccine testing to prevent life-threatening diseases."
Please note : Any products described on this page are for Research Use Only and not intended for clinical diagnostic procedures unless otherwise stated.
Date Published: 26th October 2015
Source article link: View
Related news