24th March 2017 Content supplied by: R-Biopharm AG
New Verotoxin ELISA for the Detection of STEC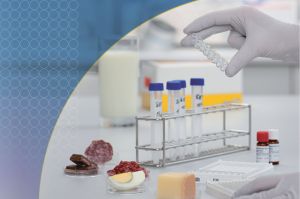 The Escherichia coli bacterium occurs naturally in the intestinal flora of humans and animals. Most E. coli are harmless, however there are some pathogenic strains that may cause serious infections. These bacteria form verotoxin or shiga toxin and are therefore also referred to as verotoxin-producing E. coli (VTEC) or shiga toxin-producing E. coli (STEC). The main contamination sources are raw or undercooked meat products as well as unpasteurized milk products.
Since the infectious dose of STEC/VTEC can be very low, zero tolerance applies to ready-to-eat food. According to regulations, foodstuffs are considered contaminated as soon as a single STEC/VTEC bacterium is present in 25 grams of sample. In order to make such low concentrations detectable, an overnight sample enrichment must be carried out. After enrichment, the contamination can be detected using PCR or easy-to-use ELISA tests – such as the RIDASCREEN® Verotoxin. This enzyme immunoassay reliably detects the pathogen by measuring verotoxin, which can only occur if at least one STEC/VTEC bacterium was present in the sample.
Now, an improved verotoxin test is available from R-Biopharm. The new RIDASCREEN® Verotoxin is based on a biotin-streptavidin system, which is more sensitive than the previously used peroxidase conjugate. The ELISA test allows the detection of verotoxin (SLT-1 and SLT-2) within two hours after enrichment. Detailed information on the new test and the changed test procedure is available on request.
Date Published: 24th March 2017
Related news