New TOS MUP Medium for Enumeration of Bifidobacteria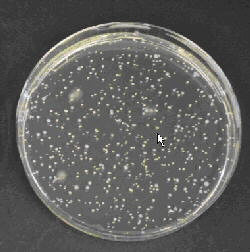 Merck's new TOS Medium, TOS Propionate Agar with Lithium Mupirocin supplement, is a unique formulation for the reliable enumeration of Bifidobacteria in probiotic dairy products.
The specially designed TOS MUP Medium promotes the growth of Bifidobacteria while other accompanying flora, such as Lactobacilli, are suppressed, which is an advantage over other media such as Clostridial Agar (RCM). Incubation in an anaerobic jar additionally protects the Bifidobacteria against the presence of oxygen.
Partners for a better life
Bifidobacteria are with you throughout your whole life, also called probiotics, they are a natural part of the bacterial flora in the human body. They are also found, together with other beneficial bacteria, in fermented dairy foods, especially yogurt.
Eating or drinking products rich in probiotics is thought to be helpful for many infections because growth of these bacteria is promoted, over other possibly harmful bacteria that may be present. They are partners in aiding good digestion whilst boosting the immune system. One member, Bifidobacteria infantis has been proven to dramatically reduce irritable bowel syndrome (IBS).
As only live organisms can provide any health benefits it is essential for manufacturers to be able to count the number of Bifidobacteria present in their products. Producers of products such as probiotics yoghurts, yoghurt like products or dried milk products, e.g. Bifidobacteria - containing infant milk formula, need to be able to specify the number of presumptive Bifidobacteria in their products.
The new Merck TOS MUP medium allows manufacturers to reliably count these organisms.
| | | |
| --- | --- | --- |
| Product Code | Description | Presentation |
| 1.00043.0100 | TOS Propionate Agar Base | 100 g |
| 1.00043.0500 | TOS Propionate Agar Base | 500 g |
| 1.00045.0010 | MUP Selective Supplement | 1 x 10 vials |
| 1.16387.0001 | Anaerobic Jar | 1 PC |
| 1.13829.0001 | Anaerocult® A | 1 x 10 sachets |
| 1.15112.0001 | Anaerotest® | 1 x 50 strips |
| 1.15525.0001 | RINGER´s tablets | 100 tablets |
For further information about TOS MUP Medium, please contact Merck Millipore (see details above) or EMD Chemicals in the USA or click the 'More Information' button below.
Tags:
Date Published: 18th March 2010