15th December 2014 Content supplied by: TCS Biosciences
New Selectrol® Strain: L. pneumophila SG1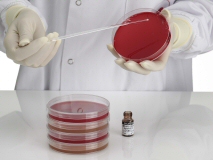 TCS Biosciences announce the addition of Legionella pneumophila serogroup 1, NCTC®11192 / ATCC® 33152 to the Selectrol® range. L. pneumophila SG1 will be available in our popular 10-disc format from January 2015.
L. pneumophila SG1 will be priced at £42.30 per 10-disc vial.
Selectrol® is a convenient source of viable micro-organisms which can be used for a variety of quality control and testing applications. For more information and full strain listing please visit our website below. Selectrol® batches are tested for a wide range of identification and characterisation attributes in our UKAS accredited testing laboratory, number 2496. A test report for each batch of Selectrol® is available via this website. The reporting of the test results via the web forms part of the UKAS accredited system.
Selectrol® discs are manufactured exclusively from NCTC (NATIONAL COLLECTION OF TYPE CULTURES) and NCPF (NATIONAL COLLECTION OF PATHOGENIC FUNGI). Selectrol® is a guaranteed first generation derivative (a single subculture) from the NCTC/NCPF source strain.
If you have any questions regarding this addition to the Selectrol® range, please contact our Customer Service team.
Please note : Any products described on this page are for Research Use Only and not intended for clinical diagnostic procedures unless otherwise stated.
Tags:
Date Published: 15th December 2014
Source article link: View