28th April 2016 Content supplied by: NCIMB Ltd
NCIMB and RGU Kick-off New Streptomyces Screening Project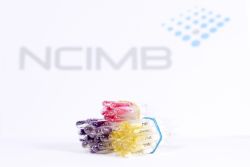 NCIMB is collaborating with the Robert Gordon University (RGU) in a new Knowledge Transfer Project (KTP)-funded research project to screen Streptomyces species for the production of novel natural products.
Streptomyces species play an important role in organic matter decomposition, and are responsible for the familiar earthy smell of soil.  They also have an enormously important role in antibiotic production, producing most of the clinically-used antibiotics of natural origin.
The National Collection of Industrial Food and Marine Bacteria was established during the 1950s and today includes more than 10,000 strains, isolated from a variety of sources and geographical locations.  Since the collection was created, there have been huge developments in the tools available to study microorganisms, that pave the way to revealing properties and potential uses that could not have been predicted by the scientists who discovered some of the earlier deposits.
Using modern laboratory techniques to screen strains within the culture collection is therefore a priority area for NCIMB.
Streptomyces' complex secondary metabolism made them an obvious choice for this project, which aims to look for compounds that have potential for use in pharmaceutical products such as antimicrobials, anti-tumour or anti-inflammatory medication, as well as compounds relevant to other industry sectors.   We hope that the project will make an important contribution to a programme of work that adds value to the culture collection through the provision of more information about the strains within it.
For further information, contact Dr Samantha Law s.law@ncimb.com
Please note : Any products described on this page are for Research Use Only and not intended for clinical diagnostic procedures unless otherwise stated.
Date Published: 28th April 2016
Source article link: View