31st May 2012 Content supplied by: Sartorius Group
Microsart® @filter 100 and 250, Filter Units for Advanced Colony Counting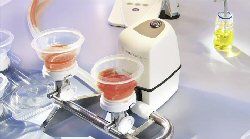 Microsart® @filter 100 and 250 filter units are a ready-to-use combination of funnel, filter base and gridded membrane all together in one unit.The range of Microsart® @filter types has been tailored to meet individual needs: Laboratories can choose between two different volume sizes, 100 ml and 250 ml, different pore sizes and different filter colors for optimal contrasting backgrounds during analysis. The filter units are available either as tray versions with lids or are stacked in bags for safe removal using the Microsart® Funnel Dispenser.
Despite the diversity of the Microsart® @filter range, one thing is common: the optimised design.
Click-Fit fastening means funnels are easy to remove
Leak-free operation due to innovative Click-Fit and bayonet closures
Bayonet closure allows easy mounting and removal of units
Sterile Filter Base with recesses makes membrane removal simpler
Innovative geometric design of the funnel allows for effective rinsing after filtration (no sample residue is left in the funnel)
The Microsart® @filter unit is the first in the new Microsart® @vance® product range. This product line has been specifically developed for Microbial Limits Testing in the pharmaceutical and biotech industry.
Handling becomes even easier as fewer steps are required between taking the sample and incubation.
Preparation- and sterilization-free procedure reduces the risk of secondary contamination
Easy membrane removal for transfer onto validated agar medium
No sample residue remains in the funnel, reducing the need of rinsing to a minimum
The Click-Fit fastening makes routine analysis faster
Click here to visit www.sartorius.com/microsart
Tags:
Date Published: 31st May 2012
Source article link: View