9th November 2015 Content supplied by: Sartorius Group
Micro Bioreactor Provides Enhanced Microbial Strain Screening
Sartorius Stedim Biotech have introduced the new ambr® 15 fermentation system, an automated micro bioreactor system designed to enhance microbial strain screening with advanced capabilities supporting fed-batch microbial cultures.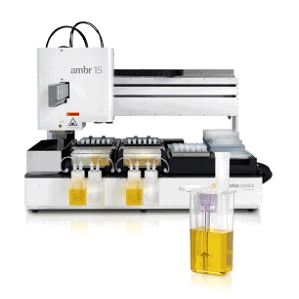 Image: New ambr® 15 fermentation micro bioreactor system designed to enhance microbial strain screening applications.
The new system, based on the gold-standard ambr 15 micro bioreactor technology, has been designed to meet the requirements of microbial fermentation.  It comprises 24 single-use stirred micro bioreactors (each with an 8-12mL working volume) integrated to a user-friendly, automated workstation. The system offers parallel processing and walk-away control of 24 micro bioreactors, providing fermentation scientists with efficient, consistent results from an enhanced early stage screening platform.
ambr 15 fermentation has been designed to deliver high oxygen transfer rates, rapid pH and feed additions and is ideally suited for assessing the effects of different strains with microbial cultures. The ambr 15 fermentation measures pH and DO every 12 seconds and there are pumped liquid lines for base and feed addition in each micro bioreactor, enabling tight pH control and a semi-continuous feed supply. Additionally, the 10mL working volume allows multiple samplings throughout the fermentation run to assess culture growth and protein production, thus providing more detailed process understanding.
The single-use micro bioreactor vessel contains an impeller suitable for fermentation and provides enhanced capability compared to shaking culture systems. The pH range of 6-8 is ideal for biopharm E. coli applications and cultures with similar requirements. As the ambr 15 vessels are single use and supplied sterile this eliminates cleaning and sterilization time, thus decreasing turnaround times between runs by many hours.
Dr Barney Zoro, ambr Product Manager at SSB explained: "Scientists have been trying to model microbial fermentation and screen microbial strains using shake plates and flasks but these devices are poor early stage models as they are not able to achieve representative cell densities, and do not allow monitoring and control of pH or DO. With these issues in mind, we developed ambr 15 fermentation and have data showing system consistency, repeatability and predictive selection of strains. This demonstrates that the system is an excellent tool for enhanced screening applications and we are confident that fermentation scientists will significantly reduce their time and resource demands when performing enhanced microbial strain selection studies using an ambr 15 fermentation system."
ambr 15 fermentation is the latest addition to the ambr portfolio which also includes ambr 15 cell culture and ambr 250 systems.  ambr systems are widely used for cell line development and process optimisation at pharmaceutical, biotechnology and academic laboratories and are proven to provide a reliable model and consistent scalability to a range of upstream processes.
Date Published: 9th November 2015
Source article link: View