18th June 2010 Content supplied by:
Merck Chromocult® Coliform Agars AOAC Approved for Food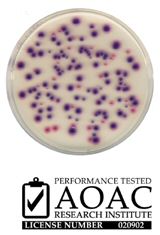 The only two chromogenic media for enumeration of Coliforms and E. coli with AOAC approvals for use in food manufacture - can deliver results within 24 hours.
Part of the innovative line-up of Chromocult® culture media from Merck, both media, Chromocult® Coliform Agar and Chromocult® Coliform Agar ES are now officially approved by the AOAC® Research Institute.
A test of three processed foods: sausages, cooked chicken, and non-fat dried milk, and a test of three fresh foods: raw ground beef, raw ground chicken and raw milk, showed that Chromocult® Coliform Agar and Chromocult® Coliform Agar ES demonstrate 100% equivalence to the AOAC® Official Method 966.24.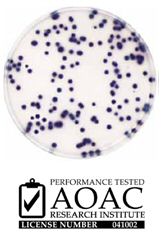 This AOAC® Official method is used to detect and enumerate E. coli and Coliform bacteria by using Lauryl Sulfate broth and EC-Broth and needs up to 48 hours to get results.
Chromocult® Coliform Agars The manufacturing process of food and water often results in the damage or reduction of micro-organisms. The strong inhibitors, such as bile salts, in traditional media for Coliforms/E. coli may limit the growth of sub-lethally damaged target organisms.
Chromocult® Coliform Agar contains Tergitol 7 as an inhibitor of gram-positive bacteria, which in turn has no negative effect on the growth of targeted Coliforms/E. coli approved by the USEPA analysis of water and AOAC for processed foods.
Fresh foods usually contain a high number of microorganisms and generally do not contain stressed or damaged bacteria. The high level of accompanying flora requires higher selectivity of the culture medium to ensure the inhibition of these unwanted bacteria.
Chromocult® Coliform Agar ES contains a combination of bile salts and propionate instead of Tergitol 7, which results in the extensive inhibition of unwanted background flora.
About the study In a study comprising fresh and processed foods, both of Merck's Chromocult® Coliform Agar methods demonstrated 100% equivalent performance to the AOAC Official Method 966.24, Lauryl sulfate broth and EC-Broth. All typical colonies from Chromocult® Coliform Agar were confirmed as either E. coli or Coliforms.
Inclusivity and exclusivity data are also available for this study. To demonstrate inclusivity, 53 isolates of E. coli and non-E. coli Coliforms were inoculated. The results showed that all E. coli strains tested produced typical violet colonies and all non-E. coli Coliforms produced typical pink colonies. Taken together, this yields an inclusivity rate of 100%.
To demonstrate exclusivity, 44 isolates of non-Coliform bacteria were inoculated. Most of the strains tested produced colorless colonies or were completely inhibited. Only three strains produced turquoise colonies. As a result, Chromocult® Coliform Agar and Chromocult® Agar ES yielded a 100% exclusivity rate.
Ordering Information
| | | |
| --- | --- | --- |
| Product Code | Description | Presentation |
| 1008500500 | Chromocult® Coliform Agar ES | 500g |
| 1104260500 | Chromocult® Coliform Agar | 500g |

For further information about Chromocult® Coliform Agar and Chromocult® Coliform Agar ES, please contact Merck Millipore (see details above) or click the 'More Information' button below.
Tags:
Date Published: 18th June 2010
Related news