4th July 2017 Content supplied by: Bio-Rad Laboratories
Improve Your Enterobacteriaceae Detection with the New iQ-Check® Solution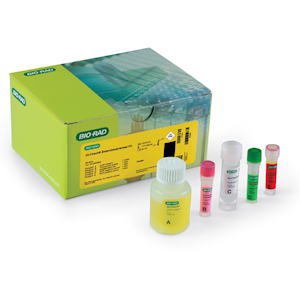 The Enterobacteriaceae (EB), are a large family of Gram-negative bacteria, often used as indicators of the hygienic status of food. For thermally processed food or ingredients, EB not only provide an indication of the efficiency of inactivation by the heat treatment, but also give a guide to post-process recontamination.
Testing of total EB is based on the standard ISO 21528-1 method, which is labor intensive and requires at least 2 days for the screening of negative samples. This is not always ideal when working within production and commercial constraints.
Bio-Rad is pleased to introduce the new iQ-Check Enterobacteriaceae real-time PCR kit. As a new and unique complete solution, the method includes:
microbial enrichment
use of iQ-Check Free DNA Removal reagent to remove DNA from dead cells
a fully automated approach with the iQ-Check Prep and the CFX96 Touch Deep-Well™ real-time PCR systems
RAPID'Enterobacteriaceae chromogenic media for culture confirmation
The kit was developed and specifically tested on milk powders, infant formula and raw dairy ingredients. This new parameter completes our current iQ-Check range for dairy products which includes tests for Cronobacter, Salmonella and Listeria.
The iQ-Check Enterobacteriaceae method is a fast, sensitive and specific alternative to the classical VRBG (Violet Red Bile Glucose) agar plate detection method and will be submitted for ISO 16140-2:2016 validation.
For more information visit www.bio-rad.com/iqcheck
Tags:
Date Published: 4th July 2017
Related news