22nd June 2017 Content supplied by: Hygiena International Ltd
Hygiena's Expanded Food Safety Testing Solutions – IAFP Booth #607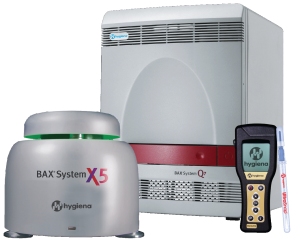 Hygiena delivers rapid microbial detection, monitoring, and identification solutions to improve food safety. From environmental monitoring and PCR pathogen detection to microbial fingerprinting, Hygiena is with you at every step.
Hygiena's EnSURE™ monitoring system collects, analyzes, and reports data from multiple quality indicators, including ATP, and indicator organisms like TVC, Coliform, E. coli and more.
The company's BAX® System, previously from DuPont Diagnostics, uses PCR technology to identify pathogens in food ingredients, finished products and production environments.
The RiboPrinter® System is an automated genetic-based system that identifies and characterizes bacteria which helps food manufacturers monitor microbial trends in their facility and trace contamination back to its source.
Hygiena utilizes advanced technologies and patented designs to provide industry-leading microorganism detection, allergen tests, environmental collection devices, and more. Hygiena is committed to the mission of providing customers with high-quality innovative technologies that are easy-to-use and reliable, backed by excellent customer service and support.
Tags:
Date Published: 22nd June 2017
Related news