8th September 2014 Content supplied by: Biotecon Diagnostics
foodproof® Range Extended to Food Allergen Detection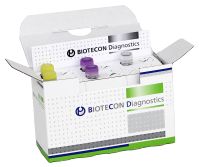 foodproof® real-time PCR solutions already cover the fields of food microbiology, detection of GMO and meat speciation. Recently, a further important field of food safety assurance has been included, the detection and quantification of allergenic food ingredients. Reliable results can be achieved with this new product line. As with other foodproof® products, handling is easy and fast and the detection kits are thoroughly validated. The system is open to most commonly used real-time PCR instruments. Thus, allergen analysis can easily be integrated in established processes and in most cases there will be no need for further investment in laboratory equipment .
BIOTECON Diagnostics has been involved with food safety for more than 15 years with the core-technology of real-time PCR. To detect pathogenic bacteria (e.g. Salmonella, Listeria, STEC etc.) or viruses (e.g. Norovirus), the foodproof® product line includes kits for real-time PCR and convenient DNA-extraction for all relevant matrices in the environment of food production. Respective systems have been validated and certified by independent institutions like AOAC-RI and MicroVal and have been established in contract testing, state authority and quality assurance laboratories for many years.
Real-time PCR is also suitable for the detection of allergenic food components which are subject to labelling in many regions. These regulations are relevant due to the rising number of affected people, low effective doses of the allergens and the increasing danger of cross-contamination during production and packaging. Available antibody-based assays often suffer from a lack of specificity or even sensitivity. The solution is reliable real-time PCR assays as now introduced by BIOTECON Diagnostics.
The first systems released during 2014 are:
foodproof® Celery Detection Kit
foodproof® Peanut Detection Kit
foodproof® Hazelnut Detection Kit
foodproof® Soya Detection Kit
foodproof® Gluten Detection KitKits for more parameters will be released soon
The kits can be used for quantification in combination with BIOTECON Diagnostics' innovative Allergen RM 800 reference material containing food allergens in exactly adjusted amounts.
In combination with the real-time PCR kits highly effective sample preparation procedures for extracting DNA from relevant matrices and purifying it from PCR inhibitory substances are offered. BIOTECON Diagnostics has validated a manual spin filter based system (foodproof® Sample Preparation Kit III) as well as an automated method for high throughput (foodproof® Magnetic Preparation Kit III) with many difficult matrices (e.g. highly processed food samples), to assure a sensitive and reliable detection.
For more information please visit our new BIOTECON Diagnostics (www.bc-diagnostics.com) website.
Tags:
Date Published: 8th September 2014
Source article link: View